New Media Resources
One World Social Innovation. (1) The Guardian on Facebook.
Journalism and media
Nonprofit 2.0 Tips and resources. Four Reasons Why NOT to Use Social Media . . . and Why to Use It Anyway. "CIA Social Media" © Manoocher Deghati //AP/Corbis These days, a nonprofit communicator must be quick.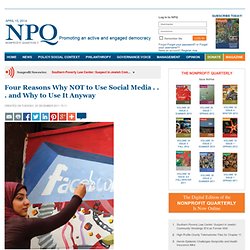 Quick to learn new tools, new technologies—and how to appropriately apply them to his or her organization. But over the past eight years, we've seen the rise and fall of social media giants like MySpace, Google Buzz, and Delicious. Those that invested their own and their organization's time and resources into these tools may have felt burned by the social media bandwagon. Projects. E-Mediat Presentations. Google+ and Google Products for Nonprofit Organizations Group News.
Clicktivist | Digital campaigning, one click at a time. Jak využít crowdsourcing pro společensky prospěšné projekty. Whats goin on.. Crowdsourcing Quality. Social Media for Nonprofit Organizations Group News. Success Stories. Web First Publishing | The Transition to Digital Journalism.
Some newspapers and other news operations are now adopting a "web-first" or "web-centric" approach to organizing their work flow.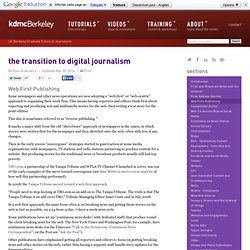 This means having reporters and editors think first about reporting and producing text and multimedia stories for the web, then writing a text story for the print edition. This also is sometimes referred to as "reverse publishing. " It marks a major shift from the old "shovelware" approach of newspapers in the 1990s, in which stories were written first for the newspaper and then shoveled onto the web, often with few, if any, changes.
What They Know. Npsocialmedia101.wikispaces. Andy Carvin Tweets the World: Building Networks and the Future of Journalism. The fundamental methods journalists use to find stories and engage with sources is changing.
On the cusp of the media revolution is National Public Radio senior strategist Andy Carvin and his use of social media and crowd sourcing to tell the story of turmoil in the Middle East ... from 5000 miles away. Carvin used Twitter to build a network that now keeps him on top of the news that comes out of the Middle East and in doing so has shown the media industry a new way to be a reporter. 5 Ambitious Social Good Startups Created In a Single Weekend.
The Global Innovation Series is supported by BMW i, a new concept dedicated to providing mobility solutions for the urban environment.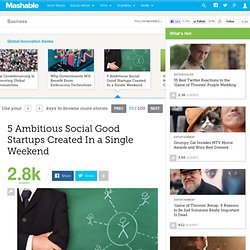 It delivers more than purpose-built electric vehicles — it delivers smart mobility services. Visit bmw-i.com or follow @BMWi on Twitter. Can a startup go from concept to launch in 54 hours? Social Media Blogging: How to Create Effective Engagement. When you start to blog as part of a comprehensive social media and digital reputation strategy, you need to know your purpose.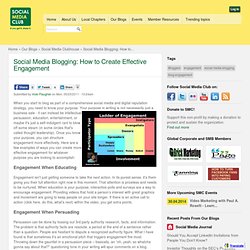 Your purpose in writing is not necessarily just a business sale - it can instead be intellectual persuasion, education, entertainment, or maybe it's just a self-indulgent rant to blow off some steam (in some circles that's called thought leadership). Once you know your purpose, you can structure engagement more effectively. Here are a few examples of ways you can create more effective engagement for whatever purpose you are looking to accomplish: Engagement When Educating.
Five Mega-trends: How Social Media is Transforming Government. A Facebook site for US government agencies I've had the honor of providing business strategy consultation recently to a UK agency and in the process became immersed in current uses of social media in government.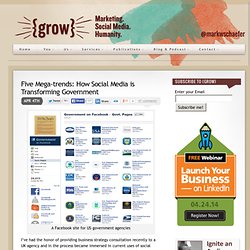 I learned so much that I considered a five-part series on the topic, but one post will have to do for now! There are unique political, security and infrastructure challenges presented by government applications of social media, but the power and potential is awe-inspiring. Steal Eloqua?s Social Media Playbook ? It's All About Revenue. The 10-platform, 42-page Eloqua Social Media Playbook was created as a veritable "how-to" guide for our staff to follow on the social Web.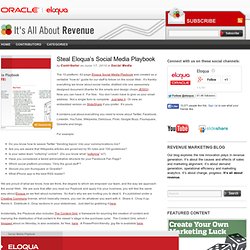 It's frankly everything we know about social media, distilled into one awesomely designed document (thanks for the smarts and design chops JESS3). Now you can have it. For free. You don't even have to give us your email address. We Are Media - home. Zoetica Salon Insights: Social Media Measurement for Nonprofits. Photo by Darren Hester Note from Beth: One thing I am trying to do with my Facebook Page is to model abundant behavior.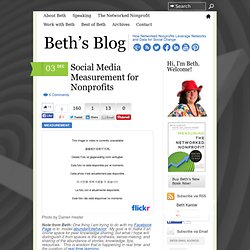 My goal is to make it an online space for peer knowledge sharing, but what I hope will distinguish it from spaces is the synthesis, sense-making, and sharing of the abundance of stories, knowledge, tips, resources.
---