Dangers & Annoyances
www.iipa.com/rbc/2011/2011SPEC301VIETNAM.pdf
Viet Nam: Criminal Code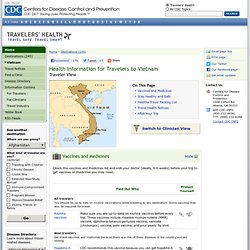 If you are not feeling well after your trip, you may need to see a doctor. If you need help finding a travel medicine specialist, see Find a Clinic. Be sure to tell your doctor about your travel, including where you went and what you did on your trip. Also tell your doctor if you were bitten or scratched by an animal while traveling. If your doctor prescribed antimalarial medicine for your trip, keep taking the rest of your pills after you return home.
Health Information for Travelers to Vietnam - Travelers' Health - CDC
2011 Edition
Vietnam travel advice
LOCATE is a free service provided by the Foreign and Commonwealth Office for British nationals travelling to or living outside of the United Kingdom. The details you provide when you register will help our embassy and crisis staff contact you and give you better assistance in an emergency such as a natural or manmade disaster or civil disturbance. Find out more Not yet registered?
Registration of British citizens Travelling Overseas
When things go wrong