Tutos HTML5
HTML5 Context Menus
Update: These context menus display even when JavaScript is disabled; so best practice will be to create these menu structures via JavaScript. Mass innerHTML injection can be used or basic DOM node injection. One of the hidden gems within the HTML5 spec is context menus. The HTML5 context menu spec allows developers to create custom context menus for given blocks within simple menu and menuitem elements. The menu information lives right within the page so there's no need to create a custom plugin. Let me show you how you can create your own custom context menus from basic HTML!
Notifications avec HTML5 et CSS - tutoriels-html5
Dans les interfaces utilisateurs, il peut être intéressant d'ajouter des notifications pour informer l'utilisateur de nouveautés (messages, demande d'amis, rappels, etc...). Il est possible d'afficher ces notifications en utilisant un sélecteur CSS ":after" et l'attribut HTML5 "data-" Rentrons dans le vif du sujet. Imaginons que vous disposez d'un menu sous forme de liste, dans ce menu il y a un lien menant vers la boite de réception de l'utilisateur : ses messages. Voici la structure HTML de votre menu : <ul><li><a href="#">Compte</a></li><li><a href="#">Message</a></li><li><a href="#">Déconnexion</a></li><ul>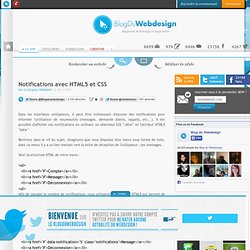 Martin Angelov In today's tutorial we will be making a beautiful HTML5 portfolio powered by jQuery and the Quicksand plugin. You can use it to showcase your latest work and it is fully customizable, so potentially you could expand it to do much more. The HTML The first step is to write down the markup of a new HTML5 document.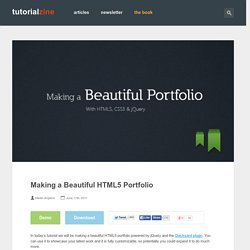 Apprendre HTML | Mozilla Developer Network
net magazine is the number one choice for the professional web designer and developer. It's here that you find out about the latest new web trends, technologies and techniques – all in one handy package. Each issue boasts a wealth of expert tips and advice, including in-depth features and over 30 pages of advanced front- and backend tutorials on subjects as diverse as CSS, HTML, JavaScript, WordPress, PHP, and plenty more. net compiles the hottest new sites from around the web, and being the voice of web design, our mission is to source the best articles written by the best people in the industry and feature interviews and opinions crammed with inspiration and creative advice. In short, If you're serious about web design and development, then net is the magazine for you.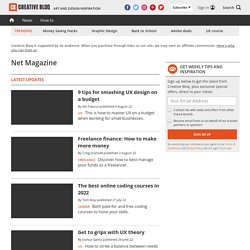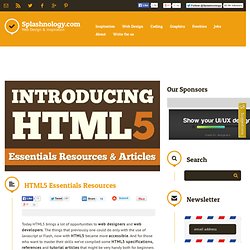 inShare13 Today HTML5 brings a lot of opportunities to web designers and web developers. The things that previously one could do only with the use of Javascript or Flash, now with HTML5 became more accessible. And for those who want to master their skills we've compiled some HTML5 specifications, references and tutorial articles that might be very handy both for beginners and professionals. w3.org The World Wide Web Consortium (W3C) is an international community where Member organizations, a full-time staff, and the public work together to develop Web standards.
HTML5 Essentials Resources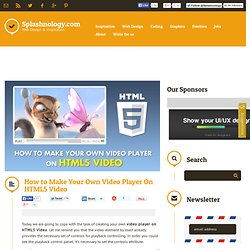 How to Make Your Own Video Player On HTML5 Video
inShare11 Today we are going to cope with the task of creating your own video player on HTML5 Video. Let me remind you that the video-element by itself already provides the necessary set of controls for playback controlling. In order you could see the playback control panel, it's necessary to set the controls attribute. However, there is a problem with the standard controls the difficulty is lies in the fact that they have a nonstandard look. In other words, in every browser, they look differently (you can check out how the controls look like in different browsers on the example of the Video Format Support ietestdrive.com – just open it in two or three different browsers).