Sites référence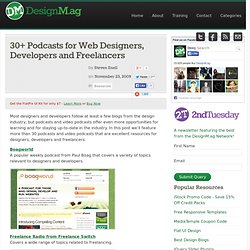 30+ Podcasts for Web Designers, Developers and Freelancers
Get the FlatPix UI Kit for only $7 - Learn More or Buy Now Most designers and developers follow at least a few blogs from the design industry, but podcasts and video podcasts offer even more opportunities for learning and for staying up-to-date in the industry. In this post we'll feature more than 30 podcasts and video podcasts that are excellent resources for designers, developers and freelancers. Boagworld A popular weekly podcast from Paul Boag that covers a variety of topics relevant to designers and developers. Freelance Radio from Freelance Switch Covers a wide range of topics related to freelancing. Web Axe Podcast and blog on practical web design accessibility tips.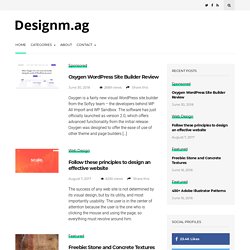 Get the FlatPix UI Kit for only $7 - Learn More or Buy Now We have something a little different for you today. Our friends over at iStock reached out to us to let us know about a promotion they are running and gave us these promo codes to share with our readers for additional savings off any credit pack… Read More If you still have any doubts about how important it is for you to adopt a responsive layout, it is time for you to stop wondering.
35 Cool Infographics for Web and Graphic Designers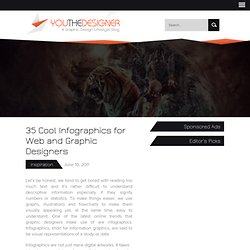 Inspiration June 10, 2011 Let's be honest, we tend to get bored with reading too much text and it's rather difficult to understand descriptive information especially if they signify numbers or statistics. To make things easier, we use graphs, illustrations and flowcharts to make them visually appealing yet, at the same time, easy to understand. One of the latest online trends that graphic designers make use of are infographics.
Le projet « Ten » de Fotolia démarre aujourd'hui avec Soemone ! Le lancement officiel de la Collection Ten a lieu aujourd'hui, ce vendredi 9 décembre. Elle débute avec la mise à disposition d'une création numérique de l'artiste Pierre Doucin, alias SOEMONE. Initié par Fotolia, en partenariat avec Wisibility et Amkashop, le projet Ten présentera pendant 10 mois, 10 artistes français à travers une de leurs créations...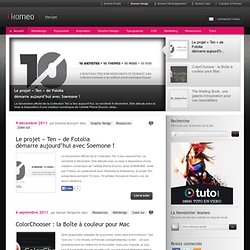 Webdesign, ergonomie web, graphisme et tendances - ikomeo Design - ikomeo
Web Design, Developpement web et Graphisme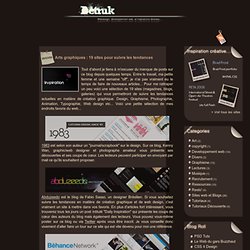 Arts graphiques : 19 sites pour suivre les tendances Tout d'abord je tiens à m'excuser du manque de posts sur ce blog depuis quelques temps. Entre le travail, ma petite femme et une semaine "off", je n'ai pas vraiment eu le temps de faire de nouveaux articles...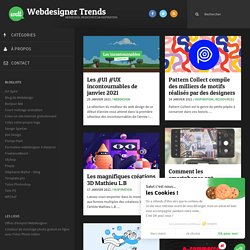 The Sculpted Alphabet par FOREAL™ Retour sur un superbe projet typographique, réalisé par le studio FOREAL basé en Allemagne. 5 sites e-commerce pour votre inspiration – #22 Votre rendez-vous mensuel des sites de vente en ligne au design réussi. Focus sur 5 acteurs du e-commerce dans des domaines variés, pour votre inspiration webdesign. 50 créations digitales autour du skull