Sites référence
30+ Podcasts for Web Designers, Developers and Freelancers. Get the FlatPix UI Kit for only $7 - Learn More or Buy Now Most designers and developers follow at least a few blogs from the design industry, but podcasts and video podcasts offer even more opportunities for learning and for staying up-to-date in the industry.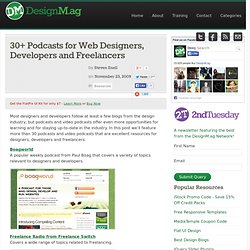 In this post we'll feature more than 30 podcasts and video podcasts that are excellent resources for designers, developers and freelancers. Boagworld A popular weekly podcast from Paul Boag that covers a variety of topics relevant to designers and developers. Freelance Radio from Freelance Switch Covers a wide range of topics related to freelancing. Web Axe Podcast and blog on practical web design accessibility tips. Awwwards | The CSS website Awards. Web Design Blog - Designers Inspiration Community - Web Development Blog - Web Design Blog – DesignM.ag. 35 Cool Infographics for Web and Graphic Designers. Inspiration June 10, 2011 Let's be honest, we tend to get bored with reading too much text and it's rather difficult to understand descriptive information especially if they signify numbers or statistics.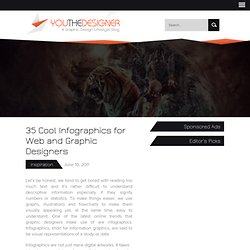 To make things easier, we use graphs, illustrations and flowcharts to make them visually appealing yet, at the same time, easy to understand. One of the latest online trends that graphic designers make use of are infographics. Magazine webdesign et blog collaboratif - Blog Du Webdesign. Webdesign, ergonomie web, graphisme et tendances - ikomeo Design - ikomeo. Web Design, Developpement web et Graphisme. Arts graphiques : 19 sites pour suivre les tendances Tout d'abord je tiens à m'excuser du manque de posts sur ce blog depuis quelques temps.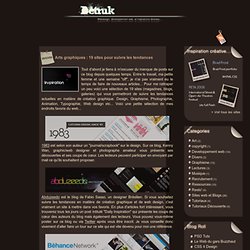 Entre le travail, ma petite femme et une semaine "off", je n'ai pas vraiment eu le temps de faire de nouveaux articles... WebdesignerTrends - Ressources utiles pour le webdesign, actus du web, sélection de sites et de tutoriels.
---