Selection d'exemples
21 Inspiring Blog Designs. It could be said that with all the themes available to design a blog it's getting harder to find new and authentic blog designs.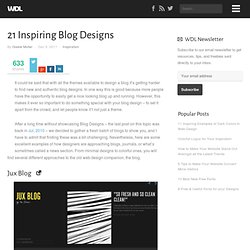 In one way this is good because more people have the opportunity to easily get a nice looking blog up and running. However, this makes it ever so important to do something special with your blog design – to set it apart from the crowd, and let people know it't not just a theme. After a long time without showcasing Blog Designs – the last post on this topic was back in Jul, 2010 – we decided to gather a fresh batch of blogs to show you, and I have to admit that finding these was a bit challenging. Nevertheless, here are some excellent examples of how designers are approaching blogs, journals, or what's sometimes called a news section. From minimal designs to colorful ones, you will find several different approaches to the old web design companion, the blog. 25 Inspiring Type Based Web Designs.
35 Bright And Colorful Website Design. 30 Delicious Food And Restaurant Websites. 25 Unusual website layout for design inspiration. 25 Unusual website layout for design inspiration Posted by Vikas Ghodke on April 2nd in Inspiration.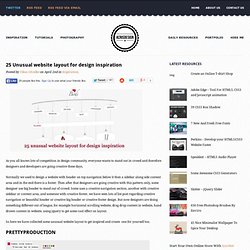 As you all knows lots of competition in design community, everyone wants to stand out in crowd and therefore designers and developers are going creative these days. Normally we used to design a website with header on top navigation below it then a sidebar along side content area and in the end there is a footer. Then after that designers are going creative with this pattern only, some designer use big header to stand out of crowd. Nathan Brunstein's Portfolio. 180 Webdesign tendances pour 2011 - webdesign-inspiration. 40 Ecommerce Website For Inspiration. 25 Beautiful Retro Webdesign.
---