Inspiration webdesign
Typo
Graphic Design Podcast :: The Deeply Graphic DesignCast. The web & graphic design podcast that offers both practical and creative design advice you can use.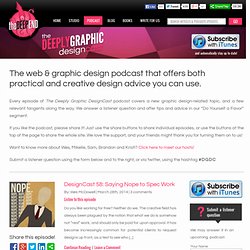 Every episode of The Deeply Graphic DesignCast podcast covers a new graphic design-related topic, and a few relevant tangents along the way. We answer a listener question and offer tips and advice in our "Do Yourself a Favor" segment. Lake Nona. Aurelie. Navigation / ergonomie. Graphisme.
Portfolios
Footers. Selection d'exemples. Sites référence. KARB - Digital Fireworks. Nashville Web Design, WordPress/Custom Site Development, Digital Social Media Marketing - NoSleepForSheep. The Lit Pub • Home.
Pixelschupser – Mediendesign | Weil Werbung rockt. Reverend Danger. 2pxBorder. Design For Mankind. Unfinished Business School. The Butter Shop, Website on Branding Served. Imaginista Branding Inc. Digital design agency producing websites and online marketing campaigns - Creative Jar. ★   Colin Grist – Website Designer, Developer and General Rambler  ★ InfinVision - for successful ventures online. AmberMiro Design Studio. Expert de l'e-reputation et de la gestion du buzz Internet. ENGARDE | Thru the heart. Archive. Use Of Hand-Drawing In Web Design.
---