Inspiration webdesign
Graphic Design Podcast :: The Deeply Graphic DesignCast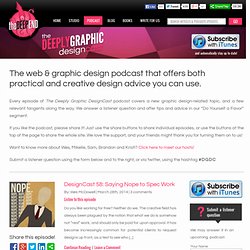 The web & graphic design podcast that offers both practical and creative design advice you can use. Every episode of The Deeply Graphic DesignCast podcast covers a new graphic design-related topic, and a few relevant tangents along the way. We answer a listener question and offer tips and advice in our "Do Yourself a Favor" segment.
KARB - Digital Fireworks
Nashville Web Design, WordPress/Custom Site Development, Digital Social Media Marketing - NoSleepForSheep
The Lit Pub • Home
Pixelschupser – Mediendesign | Weil Werbung rockt
2pxBorder
Unfinished Business School
The Butter Shop, Website on Branding Served
Imaginista Branding Inc.
Digital design agency producing websites and online marketing campaigns - Creative Jar
★   Colin Grist – Website Designer, Developer and General Rambler  ★
InfinVision - for successful ventures online
AmberMiro Design Studio
expert de l'e-reputation et de la gestion du buzz Internet
ENGARDE | Thru the heart
Archive
Use Of Hand-Drawing In Web Design