Articles
by Jason St.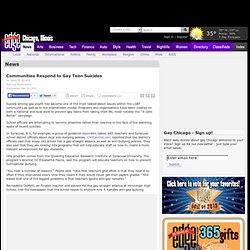 Communities Respond to Gay Teen Suicides :: EDGE Chicago
Video: Suicidal Ideation and Self-Harm in Lesbian, Gay, Bisexual, and Transgender Youth | IMPACT Program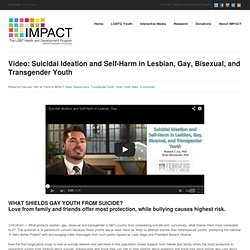 WHAT SHIELDS GAY YOUTH FROM SUICIDE? Love from family and friends offer most protection, while bullying causes highest risk.
Gay Teen Suicides Launch Nationwide LGBT Risk Study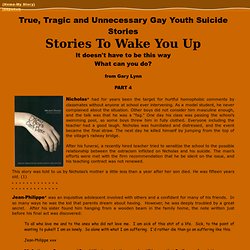 True Gay Youth Suicide Stories-True Gay Teen Suicide Stories
(Home-My Story) (Español)
The count of gay teen suicides do to bullying last month stands at 9+
We've been following closely this story and wanted to update you on some on these tragic cases. There are now reports that say that Felix Sacco was bullied.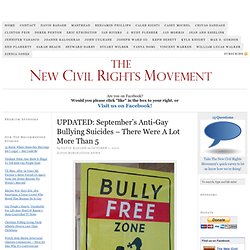 UPDATED: September's Anti-Gay Bullying Suicides – There Were A Lot More Than 5
Papers summarized below represent only studies done since 1990 that report on suicide of GLB youth (not adults). These papers represent studies, as opposed to reviews or commentaries on GLB-youth suicide.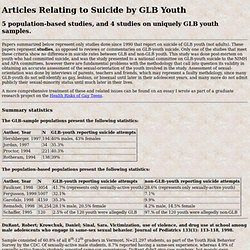 Suicide of Gay, Lesbian, Bisexual Youth
Prejudice, Social Stress, and Mental Health in Lesbian, Gay, and Bisexual Populations: Conceptual Issues and Research Evidence
Youth suicide risk and sexual orientation - Statistical Data Included | Adolescence
www.sprc.org/sites/sprc.org/files/library/SPRC_LGBT_Youth.pdf
Mark L. Hatzenbuehler, Katie A. McLaughlin, Katherine M.
The Impact of Institutional Discrimination on Psychiatric Disorders in Lesbian, Gay, and Bisexual Populations: A Prospective Study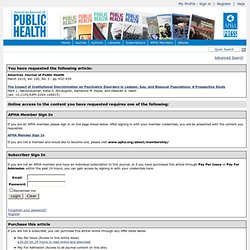 Researchers have found that attempted suicide rates and suicidal ideation among lesbian, gay, bisexual, transgender, queer, and questioning (LGBTQQ) youth is comparatively higher than among the general population.[1][2][3][4][5][6] LGBT teens and young adults have one of the highest rates of suicide attempts.[7][8] According to some groups, this is linked to heterocentric cultures and institutionalised homophobia in some cases, including the use of LGBT people as a political wedge issue like in the contemporary efforts to halt legalising same-sex marriages.[9][10][11] Depression and drug use among LGBT people have both been shown to increase significantly after new laws that discriminate against gay people are passed.[12]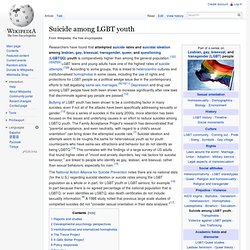 Suicide among LGBT youth
Note of a Gay Teen - Suicide.org!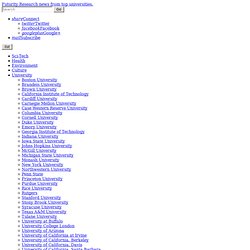 Family support prevents LGBT teen suicide
NORTHWESTERN (US) — Family and friends' support helps counteract bullying and prevent suicide among sexual minority teenagers. The question is of paramount concern because lesbian, gay, bisexual, and trangender (LGBT) youths are at least twice as likely to attempt suicide than heterosexual youths, prompting the national "It Gets Better Project" with encouraging video messages from such public figures as Lady Gaga and President Barack Obama. Now the first longitudinal study to look at suicide ideation and self-harm in this population shows support from friends and family offers the most protection in preventing youths from thinking about suicide. Adolescents who know they can talk to their parents about problems and know they have friends who care about them are less likely to consider ending their lives, according to new Northwestern University Feinberg School of Medicine research published in the American Journal of Preventive Medicine.
Preventing Suicide Among LGBTQ Youth | The Trevor Project