Chercheurs de sons
AFROCUBISM - Al vaiven de mi carreta [Live Television]
Led zeppelin- Immigrant song 1972 (music-video).
Temoust.org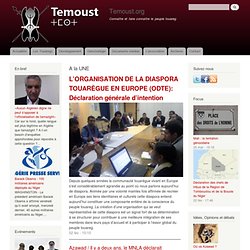 UAGADOUGOU (SIWEL) — Il y a deux ans de cela, Mossa Ag Attaher, annonçait sur une chaine de télévision française, France 24, la proclamation d'indépendance de l'Etat de l'Azawad. La déclaration d'indépendance eu lieu le 6 avril 2012. A cette occasion, le 6 avril 2014, Mossa Ag Attaher, membre du... 08 avr 2014
Page and Plant-City Don't Cry- Wah Wah- Live in Marrakech with Gnawa musicians. HQ
Extrait de Buena Vista Social Club - Club Creation
Hank Jones meets Cheik Tidiane Seck & The Mandinkass sarala By ©PC4TW
Les Escales - Festival musique du monde 3 et 4 aout 2012 à Saint-Nazaire
tamasheq.net - le site des musiques touarègues - Actualités
REAKTION > MUSIC OF THE SAHARA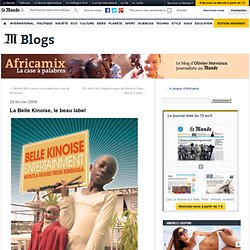 (Paris) - Le premier album de Staff Benda Bilili a été réalisé grâce à la persévérance de Vincent Kenis et de la Belle Kinoise. Label et structure de production (Paris et Kinshasa), elle se nourrit des ghettos dans la ville tentaculaire, capitale de la RD Congo, de son groove légendaire. Deux longs-métrages incroyables ont marqué la production de la Belle Kinoise. La Danse de Jupiter (2004) plonge au coeur de Kinshasa, en compagnie de Jupiter, leader du groupe Okwess International !
La Belle Kinoise, le beau label
To enter you must be of legal drinking age in the country where you are accessing this site.Please enter your date of birth and country of residence We are committed to responsible drinking so we need to check that you can legally enjoy our products. By entering this site you accept our terms and conditions and privacy policy. Please drink responsibly. Bebe con moderación es tu responsabilidad.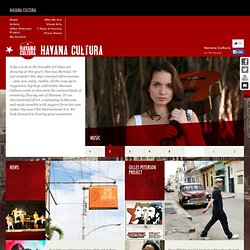 A window on contemporary Cuban creativity
Depuis 2010, FolkWelt rassemble des musiciens qui partagent une vision de la musique sans bornes, ni géographique ni générationnelle. FolkWelt organise des évènements, concerts, festivals, des fêtes pour tous les sens. L'union du plus grand nombre autour de musiques vivantes, originales et très diverses, autour de plats préparés avec soin et à base de bons produits, arrosés d'alcools de qualité. FolkWelt est aussi un foyer pour les disques de plusieurs groupes, en vinyl et CD.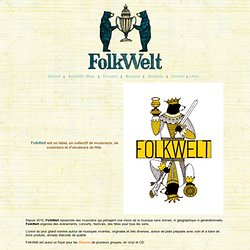 Folkwelt
Tru Thoughts The first official single from Quantic's freshly announced 'Magnetica' album is "Duvidó" featuring Portuguese resident, Angolan born vocalist Pongolove. Premiered by The Guardian, with a stunning video filmed by B+ in Colombia, the vinyl and digital single drops on 7th April ahead of the LP in May.
Quantic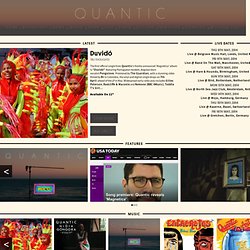 SOUNDWALK
AfroCubism - Al Vaivén de Mi Carreta (Nico Saquito)