Courses
University lectures computer science. Whether your goal is to earn a promotion, graduate at the top of your class, or just accelerate your life.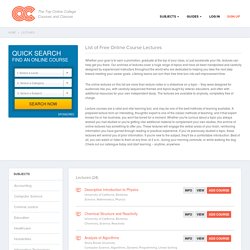 Lectures can help get you there. Our archives of lectures cover a huge range of topics and have all been handpicked and carefully designed by experienced instructors throughout the world who are dedicated to helping you take the next step toward meeting your career goals. Upgrade Your Browser - StumbleUpon. Free Engineering Video Lecture courses - StumbleUpon. OpenCourseWare | Electrical Engineering and Computer Science | 6.00... Computer Science | Video Courses on Academic Earth - StumbleUpon. In its purest form, computer science is the research and development of technology that solves specific problems.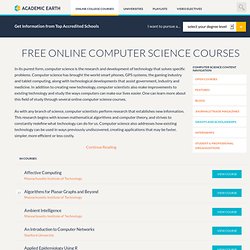 Computer science has brought the world smart phones, GPS systems, the gaming industry and tablet computing, along with technological developments that assist government, industry and medicine. In addition to creating new technology, computer scientists also make improvements to existing technology and study the ways computers can make our lives easier. One can learn more about this field of study through several online computer science courses. Top 50 Free Open Source Classes on Computer Science : Comtechtor.
Computer science is an interesting field to go into.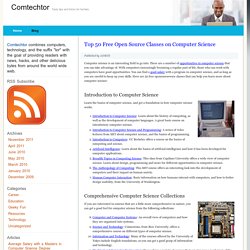 There are a number of opportunities in computer science that you can take advantage of. With computers increasingly becoming a regular part of life, those who can work with computers have good opportunities. You can find a good salary with a program in computer science, and as long as you are careful to keep up your skills. Here are 50 free opencourseware classes that can help you learn more about computer science: Introduction to Computer Science.
12 Dozen Places To Educate Yourself Online For Free. Post written by: Marc Chernoff Email All education is self-education.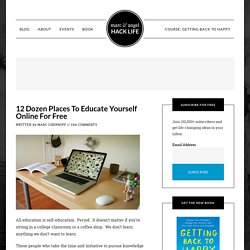 Formación - YouTube EDU. MIT Understanding Lasers and Fiberoptics full course by MIT Lasers are essential to an incredibly large number of applications.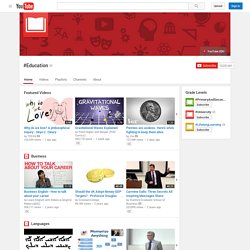 Today, they are used in bar code readers, compact discs, medicine, communications, sensors, materials processing, computer printers, data processing, 3D-imaging, spectroscopy, navigation, non-destructive testing, chemical processing, color copiers, laser "shows", and in the military.
---