Anti-theism
The Freethinker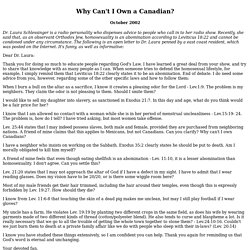 October 2002 Dr. Laura Schlessinger is a radio personality who dispenses advice to people who call in to her radio show. Recently, she said that, as an observant Orthodox Jew, homosexuality is an abomination according to Leviticus 18:22 and cannot be condoned under any circumstance. The following is an open letter to Dr.
Why Can't I Own a Canadian?
SAB, Absurdities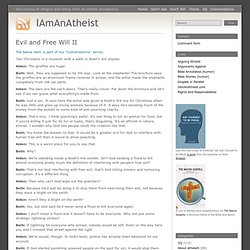 IAmAnAtheist. Discussions of religion and ethics from an atheist perspective
The below item is part of my "Conversations" series. Two Christians in a museum with a walk-in Noah's Ark display Aiden: The giraffes are huge!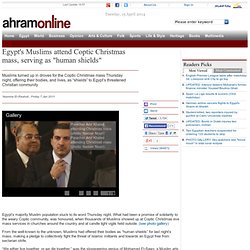 Egypt's Muslims attend Coptic Christmas mass, serving as "human shields"
Egypt's Muslims attend Coptic Christmas mass, serving as "human shields" Muslims turned up in droves for the Coptic Christmas mass Thursday night, offering their bodies, and lives, as "shields" to Egypt's threatened Christian community Yasmine El-Rashidi , Friday 7 Jan 2011 Gallery Preacher Amr Khaled attending Christmas mass (photo: Nasser Nouri) Preacher Amr Khaled attending Christmas mass (photo: Nasser Nouri)
God is an Epic Troll: The Best of the Advice God Meme | Ranker - A World of Lists