Delen
Photo Sharing - ZangZing. Photo Sharing. Your Photos Look Better Here. | SmugMug. Webtools4u2use.wikispaces. Do you have other favorite photo sharing sites or ideas for using these sites in the library media center?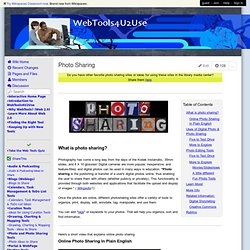 Share them here. Photography has come a long way from the days of the Kodak Instamatic, 35mm slides, and 8 X 10 glossies! Digital cameras are more popular, inexpensive, and feature-filled, and digital photos can be used in many ways in education. "Photo sharing is the publishing or transfer of a user's digital photos online, thus enabling the user to share them with others (whether publicly or privately). This functionality is provided through both websites and applications that facilitate the upload and display of images. " ( Wikipedia) Once the photos are online, different photosharing sites offer a variety of tools to organize, print, display, edit, annotate, tag, manipulate, and use them.
Image hosting, free photo sharing & video sharing at Photobucket. Picasa Web Albums: free photo sharing from Google. Experiences with a Voice™ - Zooomr. Photos of the World. Gigapan: The GigaPan(SM) process allows users to upload, share, and explore brilliant gigapixel+ panoramas from around the globe. Welcome to Flickr - Photo Sharing.
---