Muzika
Smothers Brothers. The Smothers Brothers are Thomas ("Tom" – born February 2, 1937) and Richard ("Dick" – born November 20, 1939), American singers, musicians, and comedians.
The brothers' trademark double act was performing folk songs (Tommy on acoustic guitar, Dick on string bass), which usually led to arguments between the siblings. Tommy's signature line was, "Mom always liked you best! " Thaïs (opera) Best Albums of 2013. Periods in pop are as vague, and as potentially powerful, as royalty statements.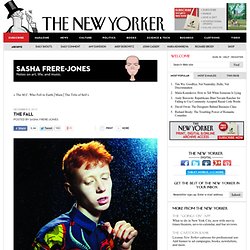 The music we loved between January and December of 2013 was likely recorded over a series of months or years. The trail of the intense recordings released this year will disperse and be recognized later in the work of comers. You will disagree with the particulars of my 2013 lists because you're you. Flight of the Conchords. Savage Republic - Customs - Full Album - [1989] PRIMER: Jay Reatard: A trip through the sprawling discography of a tortured genius.
Primer is an ongoing, introductory guide to the varied and often elusive careers of iconic artists.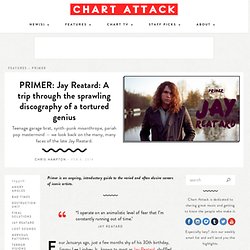 "I operate on an animalistic level of fear that I'm constantly running out of time. " Jay Reatard our Januarys ago, just a few months shy of his 30th birthday, Jimmy Lee Lindsey Jr., known to most as Jay Reatard, shuffled himself off this mortal coil. He died in his sleep: cocaine toxicity. Music Timeline. Thurston Moore's 38 Favourite Songs Of All Time / Features / Music News from THE FLY - The UK's Most Popular Music Magazine. After nearly 15 years of pioneering new music journalism, the owners of The Fly are officially closing the magazine as a result of current market conditions surrounding publishing.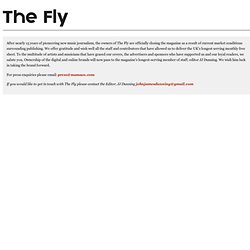 We offer gratitude and wish well all the staff and contributors that have allowed us to deliver the UK's longest serving monthly free sheet. To the multitude of artists and musicians that have graced our covers, the advertisers and sponsors who have supported us and our loyal readers, we salute you. Ownership of the digital and online brands will now pass to the magazine's longest-serving member of staff, editor JJ Dunning.
We wish him luck in taking the brand forward. For press enquiries please email: press@mamaco.com. Symphony guide: Dvořák's Eighth. So much of the symphonic thinking of the late 19th century is bound up with doing so many things at the same time, through densities of structure and motive, of harmony and counterpoint, that some of the most obvious yet hardest things to achieve in music can get forgotten in a complex symphonic maelstrom of ideas and technicalities.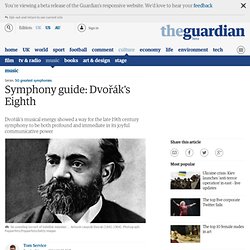 I'm talking about the art of writing tunes: not just any old tunes, either, but composing a whole symphony that teems with tunes that appeal straight to the musical pleasure zones of any listener, but which can also carry and create a whole symphonic edifice. Which is all an upbeat to this week's symphony, Antonin Dvořák's Eighth. I'm not going to cast Dvořák as some earthy Bohemian in touch with his roots in a way that those bunged-up Germans and Austro-Germanophiles could never be: the Eighth, composed in 1889, would be impossible for Dvořák to have imagined without Beethoven and Brahms as models and catalysts.
The Mikado. Theatre poster for The Mikado The Mikado; or, The Town of Titipu is a comic opera in two acts, with music by Arthur Sullivan and libretto by W.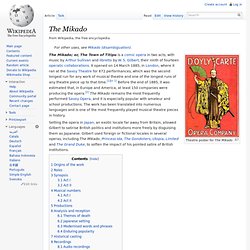 S. Gilbert, their ninth of fourteen operatic collaborations. It opened on 14 March 1885, in London, where it ran at the Savoy Theatre for 672 performances, which was the second longest run for any work of musical theatre and one of the longest runs of any theatre piece up to that time.[1][n 1] Before the end of 1885, it was estimated that, in Europe and America, at least 150 companies were producing the opera.[2] The Mikado remains the most frequently performed Savoy Opera, and it is especially popular with amateur and school productions. The Mikado.
音樂世界/un monde de la musique. THELONIOUS MONK - Blue Monk. Oblivians Announce First New Album in 16 Years. Photo by Jamie Harmon The last time Memphis garage punks Oblivians released a proper album, it was 1997's ...Play 9 Songs With Mr.
Quintron. The Flaming Lips' Wayne Coyne, Guest DJ : All Songs Considered. Hide captionWayne Coyne (center) with the rest of The Flaming Lips.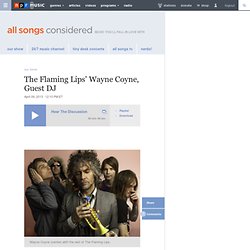 Courtesy of the artist On this edition of All Songs Considered, Wayne Coyne, singer and creative force for The Flaming Lips, joins hosts Bob Boilen and Robin Hilton to share songs and events that shaped his childhood, including the eery effect of a classic from The Beatles. We also hear an "amazing piece of dramatic, freaky music" from Tom Jones, and a contemporary cut from Beach House that's one of Coyne's current favorites. Neil Young - Dead Man Theme (long version) List of important operas. This list provides a guide to the most important operas, as determined by their presence on a majority of compiled lists of significant operas: see the "Lists Consulted" section for full details.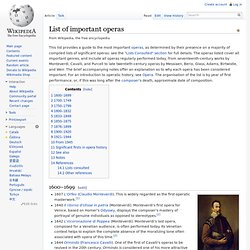 The operas listed cover all important genres, and include all operas regularly performed today, from seventeenth-century works by Monteverdi, Cavalli, and Purcell to late twentieth-century operas by Messiaen, Berio, Glass, Adams, Birtwistle, and Weir. The brief accompanying notes offer an explanation as to why each opera has been considered important. For an introduction to operatic history, see Opera. Tchaikovsky Symphony NO.6 (Full Length) : Seoul Phil Orchestra.
Giuseppe Verdi - La Traviata - Ouverture. The Black Keys- The only one. Nina Simone & Jeff Buckley - Lilac wine (Marco Rigamonti Rai Tunes Remix).mp4. I Cried For You - Sonny King. Dahmen El Harachi ... Soubhane Ellahe rati ini zouje hmamet ... Bessie Smith-"Nobody knows you when you're down and out"
The Dirtbombs - Shari Vari. Dirty Beaches - Lord Knows Best. Nick Cave and The Bad Seeds Opium Tea. Dirty Three ft. Nick Cave - Sea Above, Sky Below. Dirty Three - I Remember A Time When Once You Used To Love Me. Tosca. Tosca (Italian pronunciation: [ˈtɔska]) is an opera in three acts by Giacomo Puccini to an Italian libretto by Luigi Illica and Giuseppe Giacosa.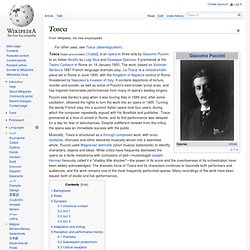 It premiered at the Teatro Costanzi in Rome on 14 January 1900. The work, based on Victorien Sardou's 1887 French-language dramatic play, La Tosca, is a melodramatic piece set in Rome in June 1800, with the Kingdom of Naples's control of Rome threatened by Napoleon's invasion of Italy. David Vanian and the Phantom Chords (album) Erotic Biljan And His Heretics - No Ma'am. JEBIVETER - LAČNI FRANZ (1984) SIVI DAN - VIDEOSEX. The Damned - Shadow Of Love (1985) The Cynics - I'll Wait. Tigrova Mast - Zlatni Kalasnjikov. M.I.A. - Born Free. M.I.A. - Bad Girls. M.I.A. - Jimmy. M.I.A- Let Me Hump You. M.I.A - Bamboo Banga. Les thugs - femme fatale. May Day. YouTube to mp3 Converter. Kad smo mogli mi. A.Stojkovic ST & A.Ilijic - Chrabl.
---