Crafts
Hostess with the Mostess (hwtm) on Pinterest
If you missed Part 1 of our Buffet Transformation, click here to read about how we rescued this buffet from a burn pile… stripped, sanded, repaired, primed, and painted! Next is the fun part. You may not know this about me, but I love to draw with charcoal. I love the shading, and the instant gratification of seeing a masterpiece unfold before your eyes. I can't draw a person to save my life… but I can shade, yo! I get an inordinate amount of joy from coming up with new ways to make furniture (or a room) unique and beautiful.
Burn Pile Buffet–Part 2… Using Stain to Make Artwork! | Sawdust and Embryos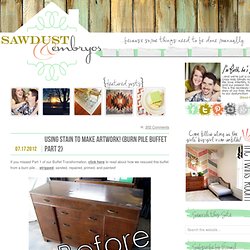 Using A Braiding Board - Introduction Braiding Materials I've used ordinary double knit wool for all of the examples in the tutorials to follow, but I'm sure the techniques would work just as well with some types of string, raffia, or maybe even unprocessed natural materials such as reeds or grass. Silk threads should work too, although the result will be more delicate - it's all quite dependent on the thickness of the threads. Maybe You've Seen This Before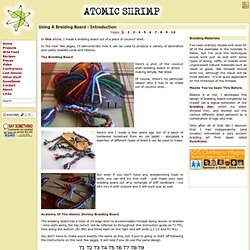 Atomic Shrimp - Using A Braiding Board - Introduction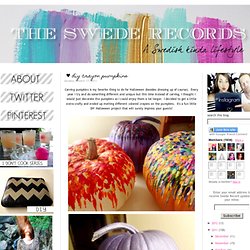 Carving pumpkins is my favorite thing to do for Halloween (besides dressing up of course). Every year I try and do something different and unique but this time instead of carving, I thought I would just decorate the pumpkins so I could enjoy them a lot longer. I decided to get a little extra crafty and ended up melting different colored crayons on the pumpkins. It's a fun little DIY Halloween project that will surely impress your guests!
The Swede Records: diy crayon pumpkins
Tweet! Welcome to The Little Brown House! I promised in my Christmas Mantle post that I would do a tutorial of the Coffee Filter trees I featured, and here it is. My first Coffee Filter project was last spring, when I made my
Coffee Filter Trees | The Little Brown House.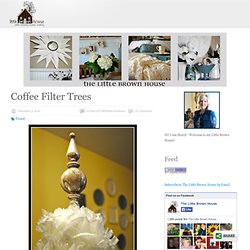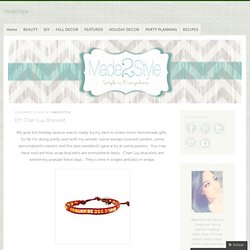 My goal this holiday season was to really try my best to make some homemade gifts. So far I'm doing pretty well with my wreath, some burlap covered candles, some personalized coasters and this past weekend I gave a try at some jewelry. You may have noticed how wrap bracelets are everywhere lately. Chan Luu bracelets are extremely popular these days.
Making of our Cardboard Christmas Tree
In my previous post, I did a how to make cube shaped & pyramid shaped hard boiled eggs. (see "how to mold a hard boiled egg")It was a lot of fun making the molds, but some of you must be thinking "Yeah, but that's a lot of work to make a mold for a hard boiled egg…" and I completely agree. I'm just a nut.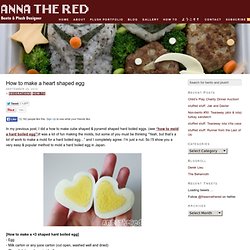 mandag, 19 september 2011 Her får I den længe ventede DIY guide til at binde en draperet nederdel, som jeg første gang viste i et indlæg fra Kreta. Jeg har brugt et gammelt tørklæde fra H&M, men har I ikke et tørklæde i den stil, kan man købe et langt stykke jersey stof i en stofbutik meget billigt.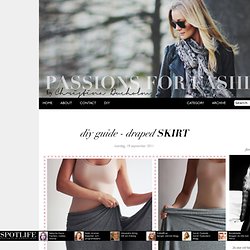 Adriana Serban
Victoria Li doing a Large Lotus Chinese Painting in Ink and Water Spontaneous Style
You may remember the wedding of our lovely D*S contributor Brittany Watson Jepsen. Her huge paper blooms made such a splash that she started selling them in her shop, and just recently Brittany wrote a great article for Brooklyn Bride about the paper flower trend. I'm thrilled that this is a growing phenomenon; I adore anything made in exaggerated scale, so I feel that the more giant flowers and plants there are in the world, the better. This particular giant-flower DIY project comes from the creative team at Ruche.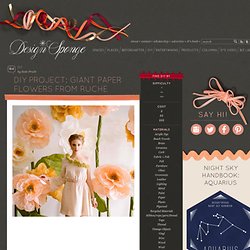 Krawatten binden: Doppelter Windsor - Krawattenknoten
I am pleased to announce that Old World Primitives is now beginning to offer primitive patterns for sale on Etsy. My first offering is Harold the primitive folk art cat, who was featured on page 72 of the Winter 2013 issue of Prims magazine. Harold is fun to make, and a recommended project for anyone with basic sewing skills. You may make him for personal use, or to sell online or craft shows. The pattern includes both the design template and detailed step-by-step instructions for bringing him to life. Click here if you are interested in purchasing Harold the primitive cat as an instant digital download, or e-pattern.
Primitive Folk Art by Old World Primitives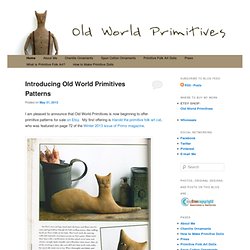 CollageLAB
We bring you a minor interruption to the CollageLAB schedule....... So this weeks "lab" is a little side step from the book but still a lesson to be found in here somewhere. My husband (Lowell) and I traveled to South Carolina this past weekend from Massachusetts to attend the graduation of the middle child (Jenna) at CCU.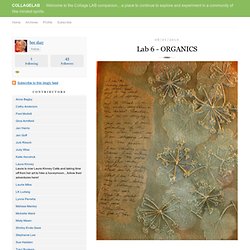 What's a BOBO?
Hey friends! I'm here today to share some progress that we've made in our soon-to-be dining room! In this room I achieved one of my big goals which was to paint something a "not white". I love how the deep gray makes the new bright white trim pop. I'm excited to host parties and dinners in this room.
Faux Burlap Beachy Cake with Paper Towel Fowers! –
One of my favorite bloggers Maysem of Ode To Inspiration made this fabulous faux cake, and I just fell in love with it! I loved her cake so much, I decided to make my own! I went with a beachy theme for mine since my decor lately has been leaning toward the seaside retreat look. Materials needed: Round storage box, linen muslin fabric, burlap ribbon, burlap strip, fringe strip (cut from the edge of my muslin), light color rope twine, decorative rocks, starfish, paper towels for the fabulous flowers (I used Bounty, they make the flowers really fluffy), spray paint primer, Mod Podge, hot glue & gun, rotary cutter & mat and scissors. I spray painted the storage box first with primer to hide the pattern on it.
I posted a picture about 1 week ago on Instagram, Facebook and Twitter of me cutting glass using just string. I got LOT'S of requests for a tutorial on how I DID THIS! So here it is.
Domestically Speaking — making a happy hearth...
Happy Monday Friends! I hope you guys had a great weekend. We had a wonderful party last week at our first Inspire Me Monday party… such great, inspiring crafts, décor, recipes and more. You can check some of the great goodies in my features from last week here. You can also find Sand & Sisal features and My Uncommon Slice of Suburbia's features to catch up on just some of the great projects we saw last week at our Monday Linky Party. Make sure to follow along on our Pinterest Continue Reading
Today is a continuation from yesterday's post about how to create a silhouette. You can use your vector silhouette for many different things (stationery, a tote bag, necklace, web graphics) but today I'll show you how I made these large framed painted silhouettes that line our staircase. (nevermind the snowflakes … this photo was taken during Christmas when the kids thought it would be extra festive to tape coffee filter snowflakes all over the wall. It actually turned out to be my favorite Christmas decoration and it was a sad day when we pulled them all down). This tutorial shows you the exact method I used for making the large prints, only done on a smaller scale.
Dirty Laundry - {the blog}
nny´s Näh- und Deko Blog: April 2011
craftstew.com
brat cristale mov_051.jpg (580×640)