Wishlist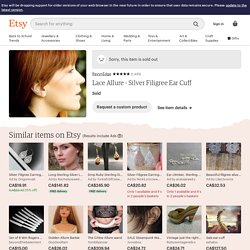 Lace Allure Silver Filigree Ear Cuff par RavynEdge sur Etsy
Lace Allure is back for a limited time! This ear cuff is a must have if you are interested in fantasy style jewelry or something special and unique. It is made from lacy sterling silver plated brass filigree and shaped to fit most ears.
Braceletantique silver little anchor&brown leather par lightenme
size:anchor 18x15mm,total lengh:16cm,adjustable 5cmmaterial: alloy,leather ♥♥♥♥♥♥ All the items are made by myself,if you want the chain shorter or longer,pls contact me,I will do according to your size.♥♥♥♥♥♥ ♥♥♥♥♥♥All packages will be shipped by Air Mail from China. Normally it takes about 10-30 business days to arrive.Please understand!
Octopus Tissue Boxes
Item location: Hong Kong Shipping to: Argentina, Australia, Austria, Belgium, Brazil, Canada, Chile, Cyprus, Czech Republic, Denmark, Egypt, Finland, France, Germany, Greece, Hungary, Iran, Ireland, Israel, Italy, Japan, Kuwait, Malaysia, Mexico, Netherlands, New Zealand, Norway, Pakistan, Peru, Philippines, Poland, Portugal, Romania, Russia, Saudi Arabia, Singapore, South Africa, South Korea, Spain, Sweden, Switzerland, Turkey,