Photography
Lynsey addario, photographer. Michael Levin Photography. El fotográfico. Joseph Rodriguez Photography. Burn magazine. BARRY GOLDWATER PHOTOGRAPHS. Bill Schwab Photographs - Fine Art Photographic Prints. PIETER HUGO - Photographer. Ricky Dávila. Fotografías y poemas del autor combinados en una serie de un centenar de imágenes, que alumbran con sus parpadeos un viaje de introspección y búsqueda personal.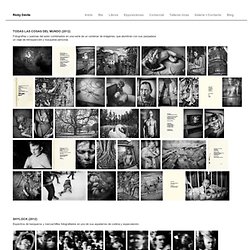 Espectros de banqueros y mercachifles fotografiados en uno de sus aquelarres de codicia y especulación. Una interpretación libre del autor sobre los célebres "Objetos encontrados" de Antonio Pérez. Bogotá como teatro de operaciones del fotógrafo junto con el poeta Dufay Bustamante. Una nueva geografía urbana en la que la capital colombiana sirve de coartada para la metáfora visual y escrita, en un viaje de introspección de ambos autores.
"Nubes de un cielo que no cambia", Ricky Dávila y Dufay Bustamante, edición Gran Sol- Casa de América, 2009. 13X18 cm., 120 páginas. 50 fotografías y 20 poemas. WILLIAM EGGLESTON. Christopher Churchill Photographer. AMERICAN SUBURB X. Not the Great Pumpkin / 20 October 2010. It's not the great pumpkin Charlie Brown, just a portrait of the sun in the wavelength of hydrogen alpha light.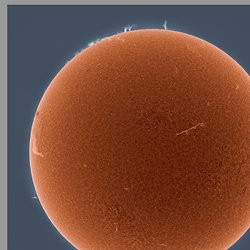 This solar portrait enjoyed a viral run on the web in early November, making appearances on Discover, Wired, The Huffington Post, NPR and many international newspapers as well. The week of attention brought a quarter million page visits back to this website and resulted in a Today Show interview with MSNBC. Dan Winters Photography. Piero Martinello - photographer. Introduction. The objective of this project is to show how Walker Evans' photographs taken in the 1930's, portraying a realistic view of the poverty-stricken rural south, revolutionized the standards of documentary photography.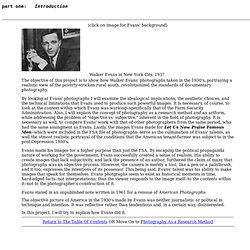 By looking at Evans' photographs I will examine the idealogical implications, the aesthetic choices, and the technical limitations that Evans used to produce such powerful images. It is necessary, of course, to look at the context within which Evans was working--specifically that of the Farm Security Administration. Also, I will explain the concept of photography as a research method and an artform, while addressing the problem of "objective vs. subjective," inherent in the field of photography.
---