Videos
This Legend of Zelda music is spot on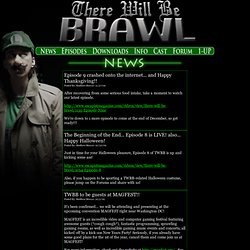 It's been confirmed... we will be attending and presenting at the upcoming convention MAGFEST right near Washington DC! MAGFEST is an incredible video and computer gaming festival featuring awesome guests (*cough cough*), fantastic programming, sprawling gaming rooms, as well as incredible gaming music events and concerts, all kicked off by a kick-ass New Years Party! Seriously, if you already have some good plans for the 1st of the year, cancel them and come join us at MAGFEST! For more information, check out the website at http://magfest.org/ . See you there!
News - ThereWillBeBrawl.com
"Prop 8 - The Musical" starring Jack Black, John C. Reilly, and many more... from FOD Team, Jack Black, Craig Robinson, John C Reilly, and Rashida Jones
Ddautta (There she is!!) | Flash
Chris Crocker - Britney, this is for you.
Top Gear - Car Darts
Mega Shark vs Giant Octopus trailer
Chris Crocker - Britney, this is for you.
Flash Videos | Albino Blacksheep
crabs - Weebl's Stuff
Narwhals - Weebl's Stuff
YTMND - Hehe Mix
Jizz In My Pants
Mr. Happy Face
Oktapodi on Vimeo
Alice - 18 Rows - 18 Columns