Cool
Miracle-Gro AeroGarden 7-Pod Indoor Garden with Gourmet Herb Seed Kit, Black: Patio, Lawn & Garden
Go Fly Kite • No Strings, No Limits
The 20 Most Popular TED Talks Ever
Au bord du cratère de Darvaza - une vidéo Voyages
Comment Internet libère l'éducation de la scolarisation » Article » OWNI, Digital Journalism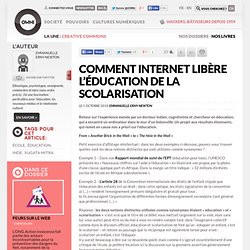 Retour sur l'expérience menée par un docteur indien, cognitiviste et chercheur en éducation, qui a encastré un ordinateur dans le mur d'un bidonville. Un projet aux résultats étonnants, qui remet en cause nos a priori sur l'éducation. From « Another Brick in the Wall » to « The Hole in the Wall » Petit exercice d'affûtage intellectuel : dans les deux exemples ci-dessous, pouvez-vous trouver quelles sont les deux notions distinctes qui sont utilisées comme synonymes ?
Procrastiner c'est remettre systématiquement les choses au lendemain. Une habitude répandue souvent associée à la paresse et à la désorganisation, alors qu'à la vérité, elle est alimentée par notre faiblesse à gérer nos impulsions. Si vous jetez un oeil à la file d'attente des films que vous projetez de voir (comme c'est le cas sur un service de VOD ou de prêt de DVD comme Netflix), vous constaterez qu'elle est constituée pour beaucoup de documentaires passionnants et de films d'auteurs, plus que des derniers blockbusters (qui demeurent toujours parmi les plus loués, comme le montre l'étonnante cartographie des locations de Netflix). Selon une étude menée en 1999 [pdf] par Daniel Read, George Loewenstein et Shoban Kalyanaraman, portant justement sur notre capacité à choisir entre des films mémorables et exigeants ou amusants et oubliables, nous avons massivement tendance à choisir les seconds au détriment des premiers.
Pourquoi remettons-nous souvent les choses au lendemain? » Article » OWNI, Digital Journalism
40 People Who Changed the Internet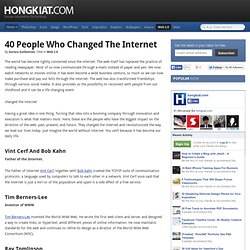 The world has become tightly connected since the internet. The web itself has replaced the practice of reading newspaper. Most of us now communicate through e-mails instead of paper and pen. We now watch networks or movies online, it has even become a wide business venture, so much so we can now make purchase and pay our bills through the internet.
15 Awesome And Inspiring Offices | The Roxor | Design blog for resources and inspiration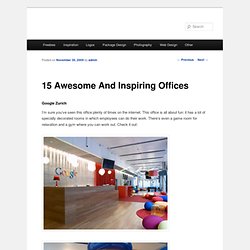 I'm sure you've seen this office plenty of times on the internet.
Je suis Einstein-like
Je suis Einstein-like Voici une petite illustration qui présente les utilisateur d'iPhone, Android et Blackberry et la façon dont chacun est perçu par les autres. Le coup du dinosaure à la fin m'a tué ! ps: Je suis sur Android et oui, je me prends pour Einstein ! [Source et photo] Vous avez aimé cet article ?