Business
Shawn Rosko Daily Social. The World of Start Ups | McGraw-Hill Answers. The World of Start Ups. The World of Start Ups | McGraw-Hill Answers. In the Office: 1950s vs Now Infographic » Beyond The Office Door. 1950s Offices vs Modern Day Offices. The 10 Commandments of Using Pinterest for Business. Would you love to tap into the power of a social media site that can send you more referral traffic than Twitter?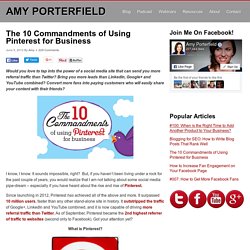 Bring you more leads than LinkedIn, Google+ and YouTube combined? Convert more fans into paying customers who will easily share your content with their friends? There's no such thing as bad publicity – especially for the NFL. The failure of the replacement refs has gone viral.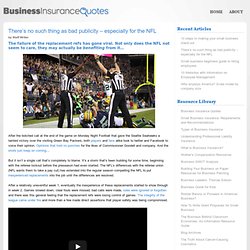 Not only does the NFL not seem to care, they may actually be benefiting from it… After the botched call at the end of the game on Monday Night Football that gave the Seattle Seahawks a tainted victory over the visiting Green Bay Packers, both players and fans alike took to twitter and Facebook to voice their opinion. Opinions that hold no punches for the likes of Commissioner Goodell and company. And the shots just keep on coming… But it isn't a single call that's completely to blame. Small business guide to hiring employees. For small businesses, hiring your first employee isn't a simple process.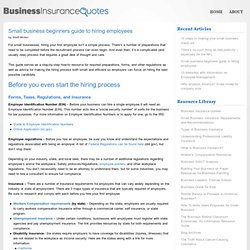 There's a number of preparations that need to be completed before the recruitment process can even begin. And even then, it's a complicated (and usually new) process that requires a great deal of thought and care. Who employs America? Scale model by comany size. With the amount of rhetoric about unemployment rates and the role of small businesses in employment nationwide, we wanted to offer a unique perspective on some facts about the make-up of employers by firm size.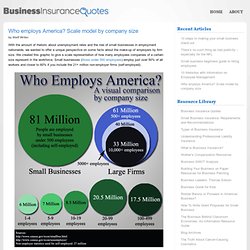 We created this graphic to give a scale representation of how many employees companies of a certain size represent in the workforce. Small businesses (those under 500 employees) employ just over 50% of all workers and closer to 60% if you include the 21+ million non-employer firms (self-employed). Building Your Business on Paper: Resources for Business Planning. A business plan outlines what a business intends to do and how the business owner or partners plan to go about putting the intentions into practice.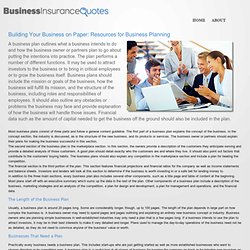 The plan performs a number of different functions. It may be used to attract investors to the business or to bring in critical employees or to grow the business itself. Business plans should include the mission or goals of the business, how the business will fulfill its mission, and the structure of the business, including roles and responsibilities of employees.
It should also outline any obstacles or problems the business may face and provide explanation of how the business will handle those issues. Financial data such as the amount of capital needed to get the business off the ground should also be included in the plan. Developing a comprehensive fire safety plan for businesses. According to the Bureau of Labor Statistics fires and explosions accounted for 109 fatalities in the workplace in 2010, the most since 2003.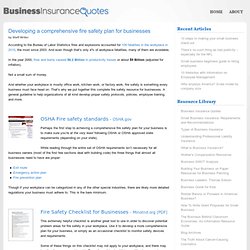 And even though that's only 4% of workplace fatalities, many of them are avoidable. In the year 2000, fires and burns caused $6.2 Billion in productivity losses or about $9 Billion (adjusted for inflation). The true costs of regulations. In 2010, the Federal Register, a publication of all new U.S. federal rules, proposed rules, presidential documents and notices became the largest ever published at 81,405 pages with more than 30,000 individual documents.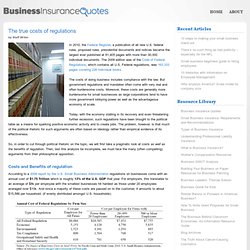 The 2009 edition was of the Code of Federal Regulations, which contains all U.S. Federal regulations, was 163,333 pages covering 226 individual books. The costs of doing business includes compliance with the law; But government regulations and mandates often come with very real and often burdensome costs. Moreover, these costs are generally more burdensome for small businesses as large corporations tend to have more government lobbying power as well as the advantageous economy of scale. Should businesses worry about the Cybersecurity Act of 2012? The federal government led by President Barack Obama, is concerned that cybersecurity has become a real threat to our national security.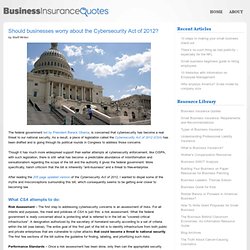 As a result, a piece of legislation called the Cybersecurity Act of 2012 (CSA) has been drafted and is going through its political rounds in Congress to address those concerns. Though it has much more widespread support than earlier attempts at cybersecurity enforcement, like CISPA, with such legislation, there is still -what has become- a predictable abundance of misinformation and sensationalism regarding the scope of the bill and the authority it gives the federal government.
More specifically, harsh criticism that the bill is inherently "anti-business" and a threat to free-enterprise. After reading the 205 page updated version of the Cybersecurity Act of 2012, I wanted to dispel some of the myths and misconceptions surrounding this bill, which consequently seems to be getting ever closer to becoming law. What CSA attempts to do: Should businesses worry about the Cybersecurity Act of 2012? | Digg Technology.
A Peek Inside Online Retailers' Warehouses. 8 Great Careers for Older Workers. If you are 55 or older and considering a change of career, we won't waste your time suggesting you look into greeting customers at Walmart or taking drive-thru orders at McDonald's.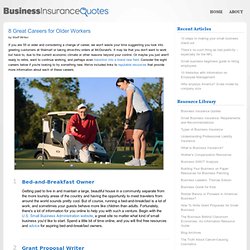 It may be that you don't want to work but have to, due to the current economic climate or other reasons beyond your control. Or maybe you just aren't ready to retire, want to continue working, and perhaps even transition into a brand new field. How to stand out: Business advice for job seekers. As a business owner, manager, and employer, I have a unique perspective on the job market.
In harder times, folks in my position definitely take notice. High unemployment means less job openings and more people going after them, which means stacks of resumes for every job opening I put out there. And so it also means, in times like now, it's more important to stand out from the competition than ever before. So here's some of the best ways for you to get my (and other potential employers') attention: Gain valuable experience. 9 Unlikely Entrepreneurs Who Changed the Market. 9 Unlikely Entrepreneurs Who Changed the Market.
How much does weather affect your business? For most of the U.S., it's been an unusually warm (and precipitation free) winter. In fact, it's the fourth warmest in recorded history, according to National Oceanic and Atmospheric Administration. And with an early spring upon us, this has been great news for some businesses, like landscapers, but terrible for others, like ski resorts. From a business perspective, weather can have a significant impact on the bottom line. 5 Business Lessons from the Goldman Sachs Resignation Op-Ed | Digg Business. 10 Ridiculously Frivolous Lawsuits Against Big Businesses | Digg Business. Mega Conspiracy – the ugly truth about Megaupload. Not 24 hours after the blackouts protesting SOPA and PIPA, the Federal Government shut down the popular website MegaUpload.com which represented an estimated 4% of all internet traffic.
Kim Dotcom, the Hong Kong based company's founder and 6 others were also arrested yesterday and listed in an indictment by a U.S. Federal Grand Jury.
---