Derby
Derby: Documentation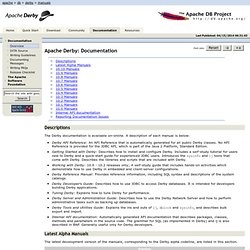 Font size: Descriptions The Derby documentation is available on-online. A description of each manual is below: Derby API Reference : An API Reference that is automatically generated for all public Derby classes. No API Reference is provided for the JDBC API, which is part of the Java 2 Platform, Standard Edition.
Derby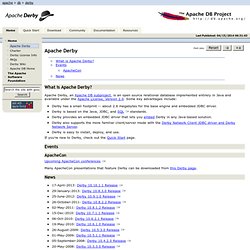 Font size: What is Apache Derby? Apache Derby, an Apache DB subproject , is an open source relational database implemented entirely in Java and available under the Apache License, Version 2.0 . Some key advantages include: Derby has a small footprint -- about 2.6 megabytes for the base engine and embedded JDBC driver.
Alfresco SQL views - Bluexml.com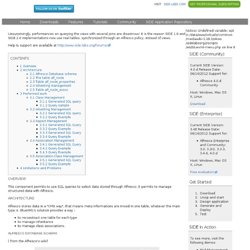 Unsurprisingly, performances on querying the views with several joins are disastrous! It is the reason SIDE 1.0 and SIDE 2.0 implementations now use real tables, synchronized through an Alfresco policy, instead of views. Help & support are available at http://www.side-labs.org/forums/ Overview This component permits to use SQL queries to select data stored through Alfresco.
SQuirreL SQL