Adobe - flex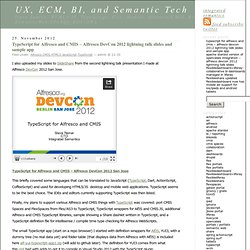 Flex for Enterprise 3.0
FlexibleDashboard, an open source dashboard project for BI dashboards/mashups, etc., now has a Flex Mobile AIR version in addition to Desktop (Desktop AIR and Flex in browser) versions. An Android build is available for download, and the iOS version can be built from the common source. FlexibleDashboard used the esria dashboard as a starting point and evolved it with added flexmdi cascade/tile (esria pod drag/drop in tile mode), more pods, both Flex in Browser and Flex+AIR versions, port from Flex 3 to Flex 4, and pods in separate Flex modules.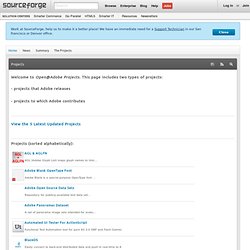 AGL (Adobe Glyph List) maps glyph names to Unic... BlazeDS Easily connect to back-end distributed data and push in real-time to A Cairngorm Cairngorm lays the foundations for delivering s... Flex SDK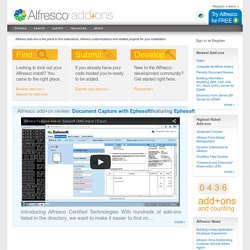 Alfresco add+ons is the place to find customizations, extensions and related projects for your Alfresco installation Looking to trick out your Alfresco install? You came to the right place.