Sodium
[ Click for Isotope Data ] Atomic Number: 11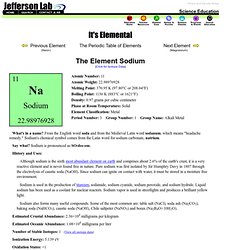 The Element Sodium
Sodium - Periodic Table of Videos
Background
How salt is made - material, used, processing, procedure, industry, machine, Raw Materials, The Manufacturing Process of salt, Quality Control, Health Aspects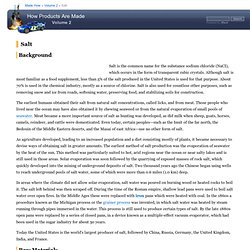 Periodic Table of the Elements Sodium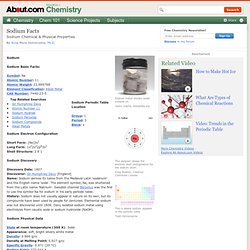 Sodium Facts - Periodic Table of the Elements Entry for Sodium - Facts about the Element Sodium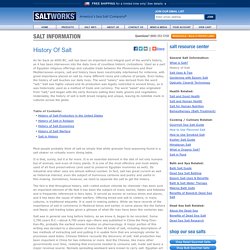 As far back as 6050 BC, salt has been an important and integral part of the world's history, as it has been interwoven into the daily lives of countless historic civilizations. Used as a part of Egyptian religious offerings and valuable trade between the Phoenicians and their Mediterranean empire, salt and history have been inextricably intertwined for millennia, with great importance placed on salt by many different races and cultures of people.
History of Salt | SaltWorks
Sodium (Na)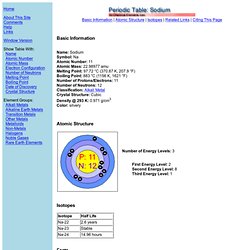 Basic Information | Atomic Structure | Isotopes | Related Links | Citing This Page
The Salt Association ::: saltsense, salt history, salt manufacture, salt uses, sodium. Key information on salt from the Salt Industry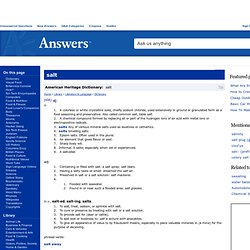 salt: Definition, Synonyms from Answers
Because salt is indispensable to life, acts as a food preservative, and uniquely flavors foods, humans have been preoccupied with it since the beginning of recorded history. The desire to obtain salt politically or militarily has influenced the histories of countries in Asia, Africa, Europe, South America, and the Middle East. Indeed, salt was used as a form of currency and had greater value than gold in some ancient societies.
Sodium Salt Manufacturers,Sodium Salt Manufacturer,Sodium Salt Manufacturers from India.
Sodium chloride , also known as salt , common salt , table salt or halite , is an ionic compound with the formula NaCl, representing equal proportions of sodium and chloride . Sodium chloride is the salt most responsible for the salinity of the ocean and of the extracellular fluid of many multicellular organisms . As the major ingredient in edible salt , it is commonly used as a condiment and food preservative .
Sodium chloride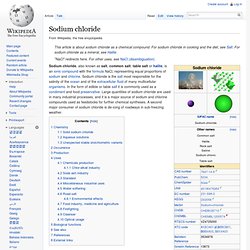 What is Salt? and Other Common Salt Questions
What is salt? Where does salt come from?
Halite crystals, commonly known as rock salt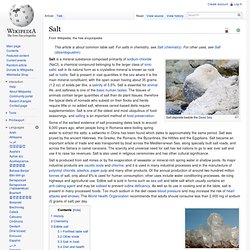 Salt