Sodium
[Click for Isotope Data] Atomic Number: 11 Atomic Weight: 22.98976928 Melting Point: 370.95 K (97.80°C or 208.04°F) Boiling Point: 1156 K (883°C or 1621°F) Density: 0.97 grams per cubic centimeter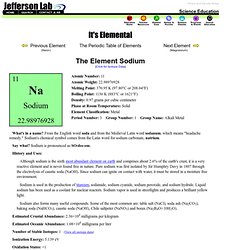 The Element Sodium
Sodium - Periodic Table of Videos
Background Salt is the common name for the substance sodium chloride (NaCI), which occurs in the form of transparent cubic crystals. Although salt is most familiar as a food supplement, less than 5% of the salt produced in the United States is used for that purpose. About 70% is used in the chemical industry, mostly as a source of chlorine. Salt is also used for countless other purposes, such as removing snow and ice from roads, softening water, preserving food, and stabilizing soils for construction.
How salt is made - material, used, processing, procedure, industry, machine, Raw Materials, The Manufacturing Process of salt, Quality Control, Health Aspects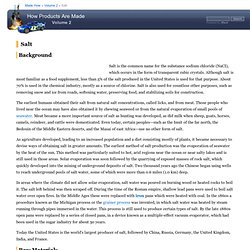 Sodium Sodium Basic Facts: Symbol: NaAtomic Number: 11Atomic Weight: 22.989768Element Classification: Alkali MetalCAS Number: 7440-23-5 Sodium Periodic Table Location Group: 1Period: 3Block: s Sodium Electron Configuration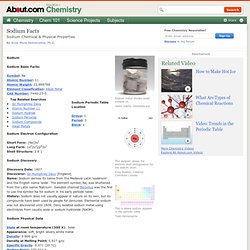 Sodium Facts - Periodic Table of the Elements Entry for Sodium - Facts about the Element Sodium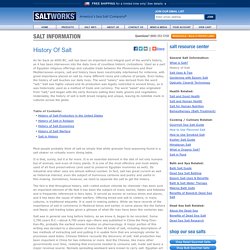 As far back as 6050 BC, salt has been an important and integral part of the world's history, as it has been interwoven into the daily lives of countless historic civilizations. Used as a part of Egyptian religious offerings and valuable trade between the Phoenicians and their Mediterranean empire, salt and history have been inextricably intertwined for millennia, with great importance placed on salt by many different races and cultures of people. Even today, the history of salt touches our daily lives. The word "salary" was derived from the word "salt." Salt was highly valued and its production was legally restricted in ancient times, so it was historically used as a method of trade and currency. The word "salad" also originated from "salt," and began with the early Romans salting their leafy greens and vegetables.
History of Salt | SaltWorks
Sodium (Na)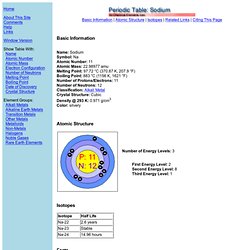 Basic Information | Atomic Structure | Isotopes | Related Links | Citing This Page Basic Information Name: Sodium Symbol: Na Atomic Number: 11 Atomic Mass: 22.98977 amu Melting Point: 97.72 °C (370.87 K, 207.9 °F) Boiling Point: 883 °C (1156 K, 1621 °F) Number of Protons/Electrons: 11 Number of Neutrons: 12 Classification: Alkali MetalCrystal Structure: Cubic Density @ 293 K: 0.971 g/cm3Color: silvery Atomic Structure
The Salt Association ::: saltsense, salt history, salt manufacture, salt uses, sodium. Key information on salt from the Salt Industry
This month has seen the release of findings from yet more research into hidden salt in food. This time the target of the Low Salt Brigade was our beloved tea-break companion – the humble biscuit. But before we go on, it's worth noting although described in the report as "hidden" the amount of salt in each biscuit is clearly shown on the nutritional information label for all to see. And although described as "research" it presumably involved someone going to the supermarket, reading the labels and noting down the number. But from this trip to the shops another national health scare has been generated – as it was discovered there is more "hidden" salt in a biscuit than there is in a fish finger and a chicken nugget. Now this comparison was clearly designed to shock – "More salt than a fish finger, you say?!"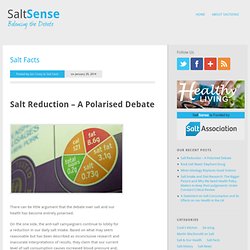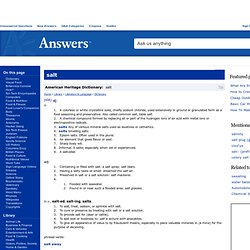 salt: Definition, Synonyms from Answers
Because salt is indispensable to life, acts as a food preservative, and uniquely flavors foods, humans have been preoccupied with it since the beginning of recorded history. The desire to obtain salt politically or militarily has influenced the histories of countries in Asia, Africa, Europe, South America, and the Middle East. Indeed, salt was used as a form of currency and had greater value than gold in some ancient societies.
Sodium Salt Manufacturers,Sodium Salt Manufacturer,Sodium Salt Manufacturers from India.
Chemistry[edit] Solid sodium chloride[edit] In solid sodium chloride, each ion is surrounded by six ions of the opposite charge as expected on electrostatic grounds.
Sodium chloride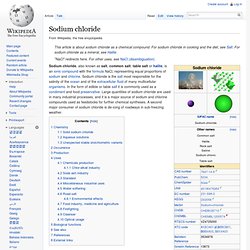 Some of the earliest evidence of salt processing dates back to around 6,000 years ago, when people living in Romania were boiling spring water to extract the salts; a saltworks in China has been found which dates to approximately the same period. Salt was prized by the ancient Hebrews, the Greeks, the Romans, the Byzantines, the Hittites and the Egyptians. Salt became an important article of trade and was transported by boat across the Mediterranean Sea, along specially built salt roads, and across the Sahara in camel caravans. The scarcity and universal need for salt has led nations to go to war over salt and use it to raise tax revenues. Salt is also used in religious ceremonies and has other cultural significance.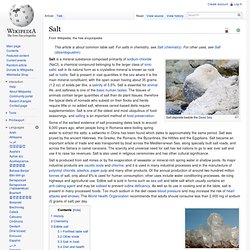 Salt