Watch
Get flash to fully experience Pearltrees
Wicked Knickers
Aphrodite Gallery
Warning! This site contains sexually explicit material that is unsuitable for minors and some adults who prefer not to view materials of this nature. To go to the page or image you are seeking, please read the box below. I am 18 years of age or older and I am above the age of consent for my particular community, state, or nation.
House of Gord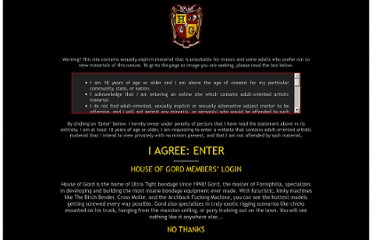 Kink.Com
Libertine Era Photographic
Mood Castings
This website is for ADULTS ONLY! Please read the terms and conditions below before entering www.Mood-Castings.com. This site contains uncensored sexually explicit material unsuitable for minors.
Punished Brats
Sarah Gregory Spanking is Sarah Gregory's personal spanking website which offers traditional disciplinary spanking, playful spanking, and sensual spanking. My members section features many new faces to the spanking world as well as many other established fetish and spanking stars. I update 6 days a week and we are already up to over 100 full spanking videos .
Sarah Gregory Spanking
In communities of artists and art fans , a request is a request for the creation of an artwork (such as a drawing ). A request can either be directed at a specific artist, or at anyone who happens to read it. A request will typically describe a scene or subject matter that the person would like to see, such as specific characters and what they could be doing in the picture. A request is different from a commission in that a commissioned work is paid for. A person who commissions an artist expects them to create the work within an agreed time and quality. In return for payment the commissioner also often gets the original work, and/or exclusive or non-exclusive usage rights.
Spanking Art
Spanking & Shame