Parts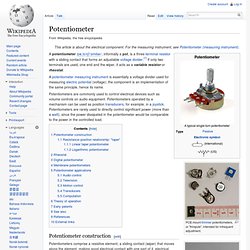 A potentiometer ( pron.: / p ɵ ˌ t ɛ n ʃ i ˈ ɒ m ɨ t ər / ), informally a pot , is a three- terminal resistor with a sliding contact that forms an adjustable voltage divider . [ 1 ] If only two terminals are used, one end and the wiper, it acts as a variable resistor or rheostat . A potentiometer measuring instrument is essentially a voltage divider used for measuring electric potential (voltage); the component is an implementation of the same principle, hence its name. Potentiometers are commonly used to control electrical devices such as volume controls on audio equipment. Potentiometers operated by a mechanism can be used as position transducers , for example, in a joystick .
Potentiometer
Figure 1: Closeup of a diode, showing the square shaped semiconductor crystal (black object on left) . Figure 3: Structure of a vacuum tube diode. The filament may be bare, or more commonly (as shown here), embedded within and insulated from an enclosing cathode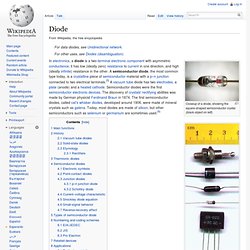 Diode
Standard clip Crocodile clips, also called automotive clips, on a set of jumper cables Three alligator clips: a bare standard-sized clip; a miniature clip in a yellow plastic boot; a large red Square D multi-function clip. Pair of standard clips A crocodile clip (also alligator clip or spring clip ) is a simple mechanical device for creating a temporary electrical connection , and is named for its resemblance to an alligator 's or crocodile 's jaws.
Crocodile clip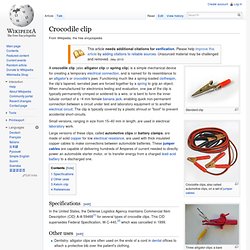 Resistor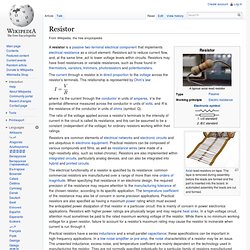 Axial-lead resistors on tape. The tape is removed during assembly before the leads are formed and the part is inserted into the board. In automated assembly the leads are cut and formed. A resistor is a passive two-terminal electrical component that implements electrical resistance as a circuit element. The current through a resistor is in direct proportion to the voltage across the resistor's terminals. This relationship is represented by Ohm's law :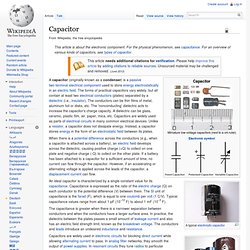 4 electrolytic capacitors of different voltages and capacitance Solid-body, resin-dipped 10 μF 35 V tantalum capacitors . The + sign indicates the positive lead. A capacitor (originally known as condenser ) is a passive two-terminal electrical component used to store energy in an electric field . The forms of practical capacitors vary widely, but all contain at least two electrical conductors separated by a dielectric (insulator); for example, one common construction consists of metal foils separated by a thin layer of insulating film. Capacitors are widely used as parts of electrical circuits in many common electrical devices.
Capacitor
Photoresistor
The symbol for a photoresistor [ 1 ] A Light Dependent Resistor The internal components of a photoelectric control for a typical American streetlight . The photoresistor is facing rightwards, and controls whether current flows through the heater which opens the main power contacts. At night, the heater cools, closing the power contacts, energizing the street light. The heater/bimetal mechanism provides a built-in light level transient filter.