Garden
Illinois Wildflowers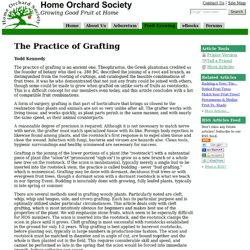 Todd Kennedy The practice of grafting is an ancient one. Theophrastus, the Greek plantsman credited as the founder of botany who died ca. 288 BC, described the joining of a root and branch, as distinguished from the rooting of cuttings, and catalogued the feasible combinations of fruit trees. It was he who demonstrated that not just any fruits could be joined with others, though some could be made to grow when grafted on unlike sorts of fruits as rootstocks. This is a difficult concept for our members even today, and this article concludes with a list of compatible fruit combinations. A form of surgery, grafting is that part of horticulture that brings us closest to the realization that plants and animals are not so very unlike after all.
The Practice of Grafting --Home Orchard Society
Perennial Veggies for Mediterranean Climates from the Master of Perennial Vegetables, Eric Toensmeier | Perennial Ideas
HOW TO GROW GIANT ONIONS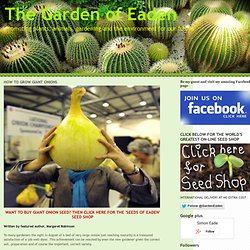 .Written by featured author, Margaret Robinson To many gardeners the sight in August of a bed of very large onions just reaching maturity is a treasured satisfaction of a job well done. This achievement can be reached by even the new gardener given the correct soil, preparation and of course the important, correct variety. Preparation of the soil should be started as soon as the previous crop has been harvested, but never when the soil is too wet, for this breaks the soil structure, this work is best done before Christmas. To achieve top results the onion bed should be a well open site with good drainage, trench approximately. 18in (45cm) deep, fork the bottom of each trench if solid.
Let's read the label, shall we? (Plant label: "Tree Collards. Evergreen. 8-10′ tall.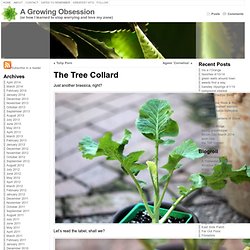 The Tree Collard « A Growing Obsession
Center for Plant Conservation Home Page
Fruit Links-- North American Fruit Explorers
Nursery, Resource, and Suppies Links This list is for the convenience of members. This listing does NOT suggest endorsement by NAFEX or NAFEX members.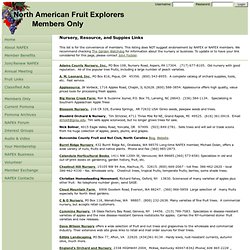 Empowering Gardeners to Grow Roots of Sustainability Thank you for your interest in open pollinated vegetables, culinary herbs and medicinal herbs. We are here to serve you and to nurture nature. Please use the navigation at the left (click) to access the full range of our seeds, plants, books, and other cool stuff. One Love! Our greatest joy is to provide you with GOOD LIVE SEEDS.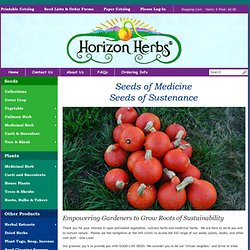 All of our Seeds are Open-Pollinated (Non-GMO, Seed-Saver Friendly) We are a project of Ecology Action, a not-for-profit dedicated to ending world hunger by teaching sustainable agriculture. Ecology Action works with projects all over the world that are locally staffed and locally adapted. Heirloom Vegetable Seeds ─ Heirloom Flowers and Grains Medicinal Herb Seeds ─ Culinary Herb Seeds—Rare Seeds Compost and Cover Crop Seeds for Soil-Building Tree Seeds and Berry Seeds for Permaculture/Shelterbelts Tools, Supplies, Books, and DVDs for Organic Gardening We have developed a simple, sustainable gardening method we call GROW BIOINTENSIVE®.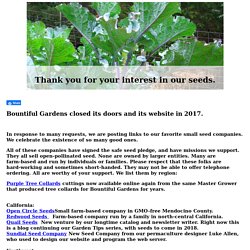 Oakes Daylilies
Van Bourgondien - Dutch Bulbs and Perennials Since 1893
View Customer Testimonials Just thought I'd drop you a line to let you know what a great little item the strawberry plasticulture tool is. I didn't even know about it until I viewed one of your online videos. When I saw the video, I added it to a small plant order. I just finished planting the 25 plants, and it took 10 minutes!
Nourse Farms
Balsamorhiza sagittata (Arrowleaf Balsamroot) Wildflower Seed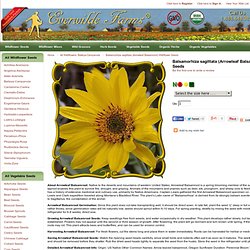 Origin: US Native Wildflower Other Common Names: Arrow-leaved balsamroot, Oregon Sunflower Duration: Perennial
Kitazawa Seed Company: Asian Vegetable Seeds, Oriental Vegetables Seed
Welcome to Filaree Garlic Farm! UPDATE: OUR OFFICE WILL BE CLOSED FROM DEC 21th 2013- JAN 2nd 2014. ALL ORDERS PLACED DURING THIS TIME WILL BE SHIPPED JAN 7th 2014. WE STILL HAVE GREAT AVAILABILITY OF SEED GARLIC AS WELL AS FOOD GRADE GARLIC AND SHALLOTS. Scroll down for further update. Filaree Garlic Farm has been an independently owned grower and supplier of premium quality garlic seed for 25 years.
Filaree Garlic Farm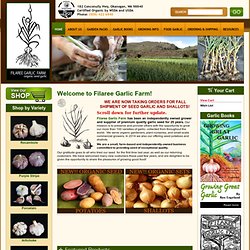 Pepper Joe's Hot Pepper Seeds and Ghost Peppers
Welcome! Our trees have finally entered their winter dormancy. We are currently conducting our harvest on our certified organic apple trees and they look spectacular.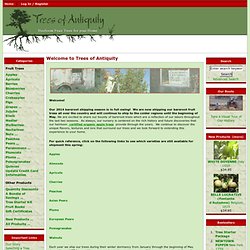 Trees of Antiquity
Direct Gardening
Kitazawa Seed Company: Asian Vegetable Seeds, Oriental Vegetables Seed
Welcome! This site offers more than 350 varieties of Asian vegetable seeds, both for the home gardeners and the farm! We offer only the highest quality Asian vegetable seeds. Most of our selections are very popular varieties grown in various regions of Asia and are not found from other seed companies in the United States. On this site, you can find many Chinese vegetables (Chinese cabbage, choy sum, yardlong Bean, bitter melon, Chinese mustard, Chinese broccoli, etc.), Japanese vegetables (Japanese cucumber and eggplant, daikon radish, Edamame soybean, kabocha squash, etc.), Korean radishes and melons, Indian bitter gourds and baby eggplants, various Thai basils and much much more.
Oriental Vegetable Seeds
Full Circle Seeds: About Us
About Us You will find among our seeds many heritage varieties selected by generations for their excellent flavour and pest resistance. Also, you will find unusual varieties from Asia and Europe – prized by chefs from our best restaurants. More than 99% of Full Circle Seeds are grown at our farm, ALM Organic Farm* ALM Organic Farm in Sooke and are certified by Islands Organic Producers Association. We have been offering open-pollinated, untreated seed grown without herbicides, pesticides or synthetic fertilizers since 1993.
Full Circle Seeds: About Us
Our website is now updated for 2014! We're happy to have lots of new things this year so be sure to check out the New for 2014! AND Certified Organic Varieties pages.
Adaptive Seeds | The Seeds of The Seed Ambassadors Project
Annie's Annuals & Perennials - Retail & Online Nursery, Buy Plants & Flowers
Rootstocks@ Cummins Nursery Catalog 20101
Уважаемые коллеги и деловые партнеры! Открытое акционерное общество «МинскСортСемОвощ» более 40 лет является лидером в Республике Беларусь по реализации высококачественных семян овощных и цветочных культур, кормовых корнеплодов, зеленных и пряно-ароматический культур, газонных трав, лука-севка, плодовых и декоративных растений. Мы предлагаем широкий ассортимент луковичных цветов и саженцев роз, который поможет создать романтические аранжировки, украсить Ваши сады и клумбы, наполнив их великолепными красками и ароматами.
MSSO
WholesaleLicensedNurseryDealers.pdf (application/pdf Object)
Situated in the pituresque hinterland of the Gold Coast South East Queensland just 5km from Mudgeeraba. Stroll around our enchanting herb gardens and enjoy the sites and scents of herbs. We sell a large range of Medicinal, Culinary and fragrant herb plants, and some rare and unusual herbs. Herb Nursery and display gardens are situated at 491 Gold Coast Springbrook Rd Mudgeeraba, QLD Opening hours: Monday, Tuesday and the 3rd Weekend of each month. 9am-4pm
Herbs - Potted Plants | Dried Herbs - Mudbrick Cottage Herb Farm
Dixondale Farms, Onion Plants Since 1913 - Dixondale Farms Mailorder Onion Plants, Leek Transplants, and Gardening Supplies - We Know Onions!
Welcome to Jekka's Herb Farm | Specialising in Organic, Culinary, Aromatic, Decorative and Medicinal Herbs
Urban Farmer Seeds & Plants | Vegetable, Herb, Flower, Bulbs, Gardening Supplies, Organic, Heirloom
Kale Seeds
Seeds from Italy
Apple Trees - Maple Valley Orchards
Vendita semi on line Vendita piante online Vendita sementi online Vivaio milano - INGEGNOLI
Himalaya Herb Stores, importers and exporters of rare herbs, Botanicals, crude drugs, culinary Herbs, marine products, medicinal herbs, seeds, sea weeds etc.
Gardening as an Anarchist Plot
Botanical gardens in the US