Facilitated_communication
Welcome to the Communication & Assistive Devices Laboratory @UB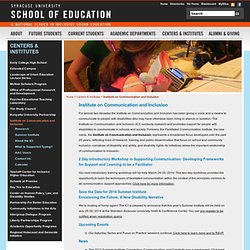 Should we have a code of ethics...
For almost two decades the Institute on Communication and Inclusion has been giving a voice and a means to communicate to people with disabilities who may have otherwise been living in silence or isolation. The Institute on Communication and Inclusion (ICI) conducts research and promotes support for people with disabilities to communicate in schools and society. Formerly, the Facilitated Communication Institute, the new name, the Institute on Communication and Inclusion, represents a broadened focus developed over the past 20 years, reflecting lines of research, training and public dissemination that focus on school and community inclusion, narratives of disability and ability, and disability rights. Its initiatives stress the important relationship of communication to inclusion. 2 Day Introductory Workshop in Supporting Communication: Developing Frameworks for Support and Learning to be a Facilitator Our next introductory training workshop will be help March 24-35, 2014.
Vermont FC Guidelines
Assistive technology can change lives and Closing The Gap is a multi-faceted resource committed to helping you discover how. Founded over 25 years ago by Budd and Dolores Hagen, parents of a child with a disability, Closing The Gap provides professionals, parents and consumers with the information and training necessary to best locate, compare and implement assistive technology into the lives of persons with disabilities. Through our annual international conference and online magazine, Closing The Gap provides practical and sound content, technologies and a network of professional support to help participants and subscribers gain the insight, knowledge and skills needed to make informed decisions and effectively and immediately evoke change.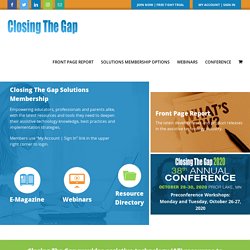 Welcome to Closing The Gap
Subject Index Facilitated Communication Digest
Guidelines for Communication Assistants
Guidelines FC and the Individual
Not Comprehending is Not All The Time...
In 2011 DEAL Communication Centre was renamed the Anne McDonald Centre, and its website was relaunched as www.annemcdonaldcentre.org.au. What the Anne McDonald Centre does The Anne McDonald Centre provides assessment and therapy for people -- any age, any diagnosis --with little or no functional speech. If clients' speech needs augmentation, we find communication aids they can use. Then we teach these clients and their support teams how to use their new voices.
Flying High on Paper Wings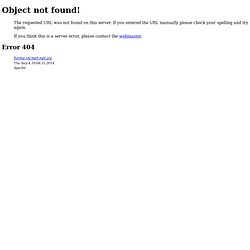 Facts About Facilitated Communication
As the leading provider of speech-generating devices, our mission is to enable individuals of all ages to develop a greater quality of life through communication, self-expression and independence. For over 25 years, our technology – developed through clinical research and customer feedback – has helped thousands of individuals that have limited or no speech due to a variety of causes including stroke, autism, CP, ALS or traumatic injury. Learn More Your consultant will provide device demonstrationsand help you through the funding process.
Welcome to DynaVox Systems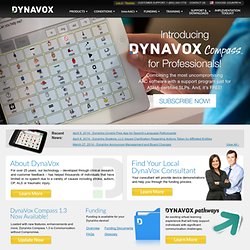 Facilitated Communication Training Practice Guidelines
Recommendations to Educators...
Trace Center Training Program
The Trace Center's training mission is to increase the number and level of expertise of people working to make mainstream information and communication technologies more accessible and usable for people with disabilities and elders. The Trace Center is part of the University of Wisconsin-Madison, College of Engineering, and offers the following educational opportunities: Experience Lab A one-hour lab, developed and instructed by Trace Center staff, is included annually in the freshman pre-engineering course, InterEgr 160.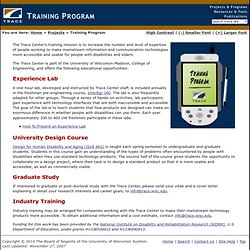 Ideas browswer
The Product Design Ideas Browser is a reference tool that focuses on design strategies used to address the Telecom Act Accessibility Guidelines. Select an item from the list of Accessibility Guidelines in the navigation pane to find ideas and strategies that will be helpful in the design of more accessible and usable products. Please Note: The strategies and techniques found under each guideline heading in this browser are ideas for addressing the Telecom Guidelines.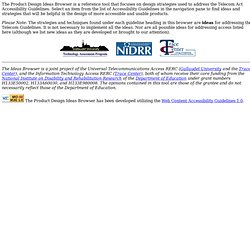 Dynavox 3100 Training
RESNA Home Page
The International Society for Augmentative and Alternative Communication (ISAAC) works to improve the lives of children and adults who use AAC. ISAAC's vision is that AAC will be recognized, valued and used throughout the world. ISAAC's mission is to promote the best possible communication for people with complex communication needs.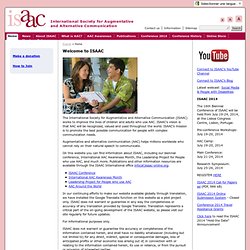 ISAAC - Home
Answer Dynavox
Universal Design Custom Bibliography Tool
Technology Center - Importance of an Assistive Technology Evaluation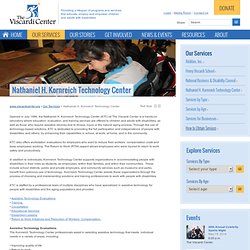 Opened in July 1996, the Nathaniel H. Kornreich Technology Center (KTC) at The Viscardi Center is a hands-on laboratory where education, evaluation, and training services are offered to children and adults with disabilities, as well as those who require assistive devices due to illness, injury or the natural aging process. Through the use of technology-based solutions, KTC is dedicated to promoting the full participation and independence of people with disabilities, and others, by enhancing their capabilities in school, at work, at home, and in the community. KTC also offers workstation evaluations for employers who want to reduce their workers' compensation costs and keep employees working. The Return to Work (RTW) aspect allows employees who were injured to return to work safely and productively.
Assistive Technology Industry Association (ATIA)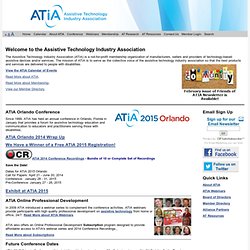 ATIA 2014 Orlando Since 1999, ATIA has held an annual conference in Orlando, Florida in January that provides a forum for assistive technology education and communication to educators and practitioners serving those with disabilities. Dates for ATIA 2014 Orlando Conference: January 29 - February 1, 2014 Pre-Conference: January 28 - 29, 2014
AAC - Augmentative and Alternative Communication Augmentative and alternative communication (AAC) strategies assist people with severe communication disabilities to participate more fully in their social roles including interpersonal interaction, learning, education, community activities, employment, volunteerism, care management, and so on. This AAC website is designed to provide access to a wide range of information and resources related to the AAC effort.
Augmentative and Alternative Communication Centers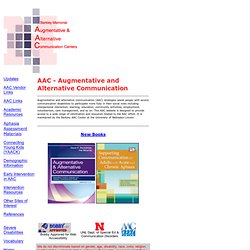 The Center on Disabilities is committed to the vision of an inclusive society where persons of all abilities have the chance to achieve their goals and experience success. Through excellent training and research, we nurture learning and innovation to improve the world for people with disabilities. The center sponsors assistive technology training programs to expand the awareness of professionals and introduce newcomers to the disability field, and hosts the largest international conference focused on the field of assistive technology. News and Events Save the date for the 29th Annual International Technology and Persons with Disabilities Conference:
Center On Disabilities
Information Quick Sheet Index
DynaVox Education and Support
DynaVox Programming Tutorials