Crochet
Magda Sayeg - Knitta, Please. Architectural academic crochet. This is one of my recent projects.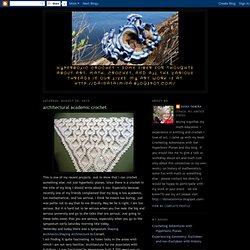 Just to show that I can crochet something else, not just hyperbolic planes. Since there is a crochet in the title of my blog I should write about it too. Especially because recently one of my friends complained that my blog is too academic, too mathematical, and too serious. I think he meant too boring, just was polite not to say that to me directly. May be he is right, I am too serious. AGS in a nutshell.
Hooks
Patterns. &Math. Crazy Crochet Blog. Crochet Concupiscence. Crochet Swirls. (Update: To see more of my patterns, please visit my ONLINE SHOP!)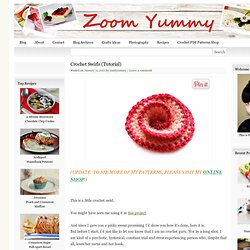 This is a little crochet swirl. You might have seen me using it in this project. And since I gave you a pinky swear promising I'd show you how it's done, here it is. Hyperbolic Crochet Reef Comes to London. The hyperbolic crochet reef started in Australia, and has travelled around the U.S. gathering beautiful creatures, made by avid crocheters, where ever it goes.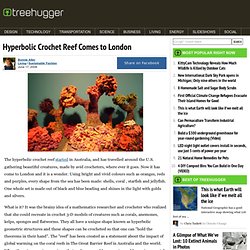 Now it has come to London and it is a wonder. Using bright and vivid colours such as oranges, reds and purples, every shape from the sea has been made: shells, coral , starfish and jellyfish. One whole set is made out of black and blue beading and shines in the light with golds and silvers. LAVISH CROCHET – EYECANDY. Jul This necklace, like all the jewelry on the linked site, is created with crocheted components.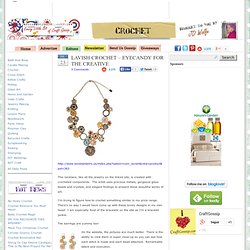 Louie's Loops: Taking Crocheting to the Future. So I'm somewhat, okay a lot of, a nerd.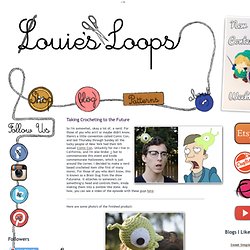 For those of you who arn't or maybe didn't know, there's a little convention called Comic Con, and last Thursday through Sunday all the lucky people of New York had their 6th annual Comic Con. Unluckily for me I live in California, and I'm also broke :) but to commemorate this event and kinda commemorate Halloween, which is just around the corner, I decided to make a nerd based crocheted item (the first of many more).
For those of you who don't know, this is known as a Brain Slug from the show Futurama. It attaches to someone's (or something's) head and controls them, kinda making them into a zombie like state. Monster Crochet. Mustaches.
---