Access.microsoft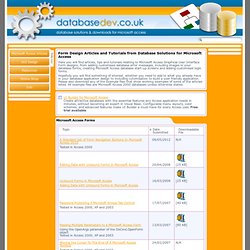 Here you will find articles, tips and tutorials relating to Microsoft Access Graphical User Interface Form designs; from adding customised database error messages, including images in your database forms, creating Microsoft Access database start-up screens and adding customised login forms.
Microsoft Access Form Design Articles Database Solutions for Microsoft Access databasedev.co.uk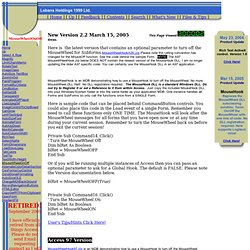 New Version 2.2 March 15, 2005 This Page Viewed: times.
MouseWheelOnOff
Database tutorials for web developers
Office Assistance Using accessibility features in Access
You can use shortcut keys for quick access to frequently used commands or operations.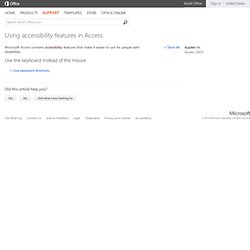 Microsoft Access
Microsoft Access is an application used to create small and midsize computer desktop databases for the Microsoft Windows family of operating systems. It can also be used as a database server for a web-based application.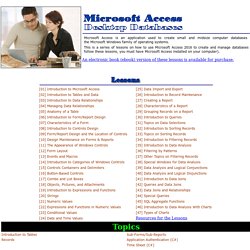 Microsoft Access Tutorial
The page you are looking for might have been removed, had its name changed, or is temporarily unavailable.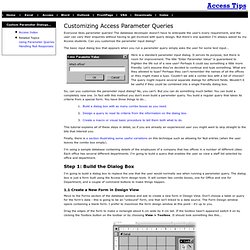 Access Tips Custom Parameter Dialogs
Everyone likes parameter queries! The database developer doesn't have to anticipate the user's every requirement, and the user can vary their enquiries without having to get involved with query design. But there's one question I'm always asked by my Access students.