Access.microsoft
Microsoft Access Form Design Articles Database Solutions for Microsoft Access databasedev.co.uk. Here you will find articles, tips and tutorials relating to Microsoft Access Graphical User Interface Form designs; from adding customised database error messages, including images in your database forms, creating Microsoft Access database start-up screens and adding customised login forms.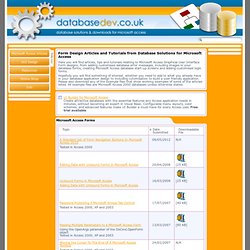 Hopefully you will find something of interest, whether you need to add to what you already have in your database application design to including cutomisation to build a user friendly application. Please also download any of the example files that show working examples of some of the articles listed. All example files are Microsoft Access 2000 databases unless otherwise stated. MouseWheelOnOff. New Version 2.2 March 15, 2005 This Page Viewed: times.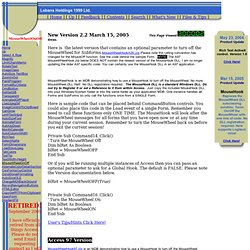 Here is the latest version that contains an optional parameter to turn off the MouseWheel for Subforms.MouseWheelHookA2K.zip Please note the calling convention has changed for the MouseOff function. See the code behind the sample Form. NOTE: The A97 MouseWHeelHook.zip below DOES NOT contain the newest version of the MouseHook DLL. I am no longer updating the older A97 specific code. Office Assistance Using accessibility features in Access.
You can use shortcut keys for quick access to frequently used commands or operations.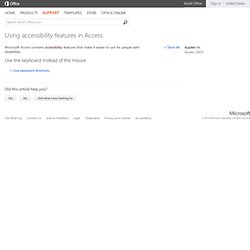 The topics below list the shortcut keys available in Microsoft Access. You can also use access keys to move the focus to a menu, command, or control without using the mouse. General shortcut keys Global Access shortcut keys. Microsoft Access. Microsoft Access is an application used to create small and midsize computer desktop databases for the Microsoft Windows family of operating systems.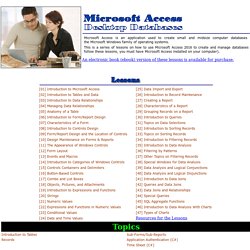 It can also be used as a database server for a web-based application. It is also supported by ADO, ODBC, and the .NET Framework, etc. This web site provides lessons on how to use Microsoft Office Access 2010 to create and manage databases (to follow these lessons, you must have Microsoft Office Access 2010 installed on your computer). Access Tips Custom Parameter Dialogs. Everyone likes parameter queries!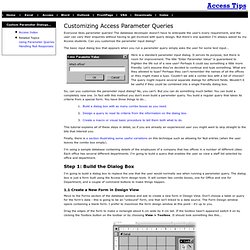 The database developer doesn't have to anticipate the user's every requirement, and the user can vary their enquiries without having to get involved with query design. But there's one question I'm always asked by my Access students.
---