Vectores
Printing Templates | Business Card Templates | Brochure Templates
Mel Stampz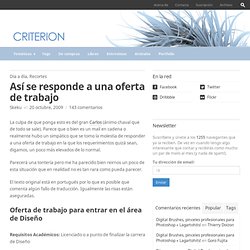 Así se responde a una oferta de trabajo
La culpa de que ponga esto es del gran Carlos (ánimo chaval que de todo se sale). Parece que o bien es un mail en cadena o realmente hubo un simpático que se tomo la molestia de responder a una oferta de trabajo en la que los requerimientos quizá sean, digamos, un poco más elevados de lo normal. Parecerá una tontería pero me ha parecido bien reirnos un poco de esta situación que en realidad no es tan rara como pueda parecer.
Royalty Free Vector Art Images | Photoshop Brushes & T-shirt Designs | 123Freevectors
DEM
10 Solutions to Easily Create Your Online Portfolio
You don't have to be a coding nerd to be able to build your own online design portfolio.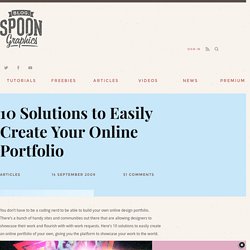 XOO placa de gráficos Web, Photoshop PSD, vectores, iconos, 3D, logotipos, wp y sitios web - mercado libre
Los bordes del grunge del vector | Descargar Fotos gratis