Recipes
How to make perfect chicken liver pâté. Something's happened to pâté.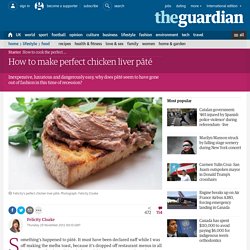 It must have been declared naff while I was off making the melba toast, because it's dropped off restaurant menus in all but the most firmly traditional of French bistros. As someone brought up on squidgy, warm brussels pâté sandwiches (the potted meat of 1980s home counties life), I've still got a soft spot for the stuff, however — especially the really rich, velvety smooth sort served with an insufficiency of toast and a wispy little salad garnish. Foams and ballotines may impress MasterChef judges, but they'll never hit the spot like a buttery hunk of pâté. While there's room for a whole larder full of pâtés in my life: chewy rustic pâté de campagne, peppery smoked mackerel, even a nice spicy chickpea number, nothing can hold a candle to a rich poultry liver version for elegance.
The Salty Seattle Burger: Results of My One-Year Quest | Salty Seattle. The common hamburger.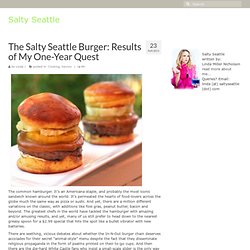 It's an Americana staple, and probably the most iconic sandwich known around the world. It's permeated the hearts of food-lovers across the globe much the same way as pizza or sushi. And yet, there are a million different variations on the classic, with additions like foie gras, peanut butter, bacon and beyond. The greatest chefs in the world have tackled the hamburger with amazing and/or amusing results, and yet, many of us still prefer to head down to the nearest greasy spoon for a $2.99 special that hits the spot like a bullet vibrator with new batteries.
Chicken Karaage Recipe (Japanese Fried Chicken) How to Make Wine Jelly. I don't know if the American Psychiatric Association has a list of personality traits for first-born children, but if they do, I'm sure "entitled" would be near the top.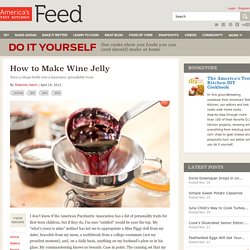 My "what's yours is mine" instinct has led me to appropriate a Miss Piggy doll from my sister, bracelets from my mom, a toothbrush from a college roommate (not my proudest moment), and, on a daily basis, anything on my husband's plate or in his glass. My commandeering knows no bounds.
Gluten free. 'Modernist Cuisine' Adapted to Home Entertaining. Dessert. Preserving Lemons the Traditional Way. Tony Cenicola/The New York Times As pantry items go, preserved lemons hold great intrinsic value.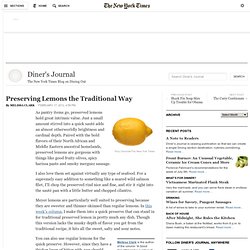 Just a small amount stirred into a quick sauté adds an almost otherworldly brightness and cardinal depth. Paired with the bold flavors of their North African and Middle Eastern ancestral homelands, preserved lemons are gorgeous with things like good fruity olives, spicy harissa paste and smoky merguez sausage. Homemade American Cheese. Your favorite yellow, salty, ultra-meltable cheese—now in customizable form.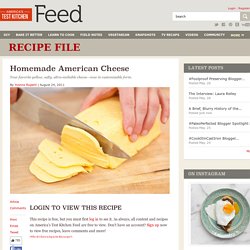 This recipe is free, but you must first log in to see it. As always, all content and recipes on America's Test Kitchen Feed are free to view. Don't have an account? Sign up now to view free recipes, leave comments and more! Thanks for printing this recipe. Mozzarella-Stuffed Turkey Burgers -EW. Barbecue Turkey And On Turkey On The Grill: The Ultimate Smoked Turkey Recipe. "Let not your learning exceed your deeds lest you become like a tree with many branches and no roots.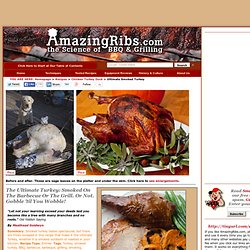 " Old Yiddish Saying By Meathead Goldwyn Summary. Smoked turkey tastes spectacular, but there are tricks revealed in this recipe that make it the Ultimate Turkey, whether it is smoked outdoors or roasted in your kitchen.
---