Doces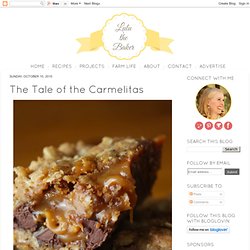 We live in a big-but-not-huge town. We have a P.F. Chang's and a Pottery Barn and two malls and two full-price movie theaters. But we don't have a Williams-Sonoma.
Make these in the morning. You'll be glad you did. I was flipping through some of my cookbooks the other day and became mesmerized by a recipe for these biscuits from the book Deep Dark Chocolate. It's filled with decadent recipes using dark chocolate.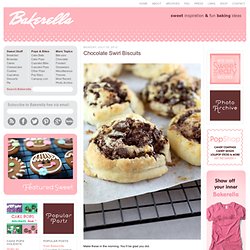 Chocolate Swirl Biscuits & bakerella.com
We're all familiar with the boxed versions of photo booth rentals where a few close ones gather together to capture bit strips of funny and loving spaces. However, what are open air rental photobooths? These are new ways to capture the memories with even more benefits.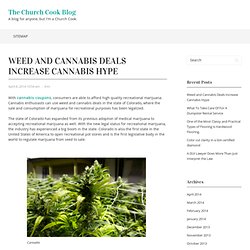 +The Church Cook: Hazelnut Chewies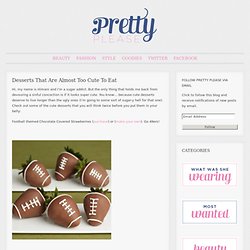 Hi, my name is Himani and I'm a sugar addict. But the only thing that holds me back from devouring a sinful concoction is if it looks super cute. You know… because cute desserts deserve to live longer than the ugly ones (I'm going to some sort of sugar-y hell for that one). Check out some of the cute desserts that you will think twice before you put them in your belly: Football themed Chocolate Covered Strawberries (purchase) or (make your own).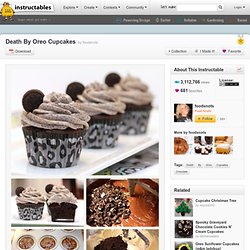 They are probably the best Oreo cakes I have ever tried. A lot of cake's that I have experimented with before are like a vanilla cake with bits of Oreo in them, which didn't really give them enough Oreo flavor. But these were a lot better. I used a dark chocolate fudge cake mix instead of just a regular chocolate cake mix, which went really well with the cookies and gave the cakes just a little more flavor. So, in this recipe there is Oreo's in the cake, in the frosting, and at the bottom is a Oreo surprise. That's right, you put a whole Oreo at the bottom of the cake.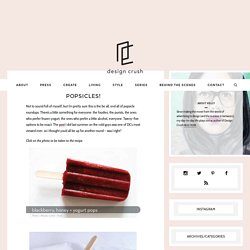 Jun29 Not to sound full of myself, but I'm pretty sure this is the be all, end all of popsicle roundups. There's a little something for everyone: the foodies, the purists, the ones who prefer frozen yogurt, the ones who prefer a little alcohol, everyone. Tweny-five options to be exact.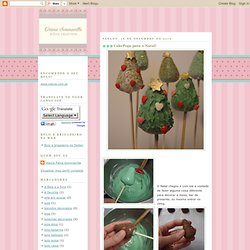 Bolo & Brigadeiro: CakePops para o Natal!
O Natal chegou e com ele a vontade de fazer alguma coisa diferente para decorar a mesa, dar de presente, ou mesmo entrar no clima. Estes pirulitos de bolo, conhecidos como Cake Pops são bem fáceis de fazer, e ficam uma delicia! A idéia saiu do Livro "Cake Pops: Tips, Tricks, and Recipes for More Than 40 Irresistible Mini Treats " da Bakerella.As receitas americanas pedem Candy Melt, que não temos aqui, mas o chocolate branco de cobertura( fracionado) funciona muito bem, pois seca muito rapido e é de facil manuseio. A dica é procurar o de melhor qualidade possível, pois alguams marcas não fazem produtos bons e o gosto é realmente terrível.
University of Cookie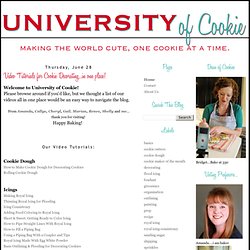 Hellooooo...it's Bridget here! Miracle of miracles, we have a video today!!! A missing camcorder charging cord, Flip software that wouldn't work, and well, general busyness have kept me away for awhile.
* All cookie designs and images are copyright protected. Please do not replicate without authorized permission from me.* This tutorial is meant to be a teaching aid. Tutorial on brush embroidery that was previously posted on the cookie forum and KarensCookies.net! Excuse the sloppiness etc.
Ali Bee's Bake Shop: Brush Embroidery Tutorial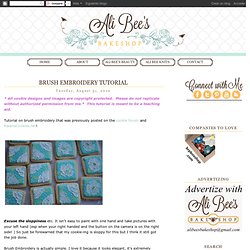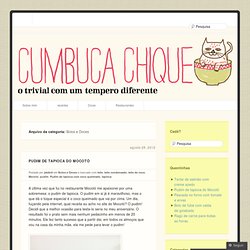 A última vez que fui no restaurante Mocotó me apaixonei por uma sobremesa: o pudim de tapioca. O pudim em si já é maravilhoso, mas o que dá o toque especial é o coco queimado que vai por cima. Um dia, fuçando pela internet, qual receita eu acho no site do Mocotó? O pudim! Decidi que a melhor ocasião para testa-lo seria no meu aniversário. O resultado foi o prato sem mais nenhum pedacinho em menos de 20 minutos.
Bolos e Doces |
Vocês pensam que é fácil a vida da doceira, mas é uma luta. Explico: a gente acaba fazendo sempre os mesmos doces para as encomendas das clientes, mas aí é aquela coisa – sobra um pouco de brigadeiro aqui, uma tampa de bolo ali, aquele cookie que ficou feio e não passou no controle de qualidade fica rodando na tapaué olhando pra você. Aí, de vez em quando, a gente olha aquilo tudo e a cabecinha começa a pensar – e se eu juntasse esse resto de doce de leite com aquele resto de bolo de nozes e fizesse um pavê? E se eu esmigalhasse esses cookies e fizesse um sorvetinho?
The Cookie Shop