Doces
Lulu the Baker: The Tale of the Carmelitas. We live in a big-but-not-huge town.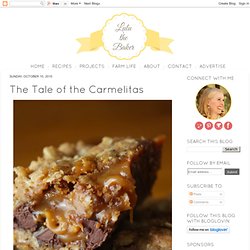 We have a P.F. Chang's and a Pottery Barn and two malls and two full-price movie theaters. But we don't have a Williams-Sonoma. Chocolate Swirl Biscuits & bakerella.com. Make these in the morning.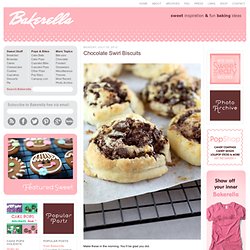 You'll be glad you did. I was flipping through some of my cookbooks the other day and became mesmerized by a recipe for these biscuits from the book Deep Dark Chocolate. It's filled with decadent recipes using dark chocolate. - StumbleUpon. +The Church Cook: Hazelnut Chewies. Desserts That Are Almost Too Cute To Eat & Pretty Please Us Blog: Your guide to fashion, beauty, style & everything else in between. Hi, my name is Himani and I'm a sugar addict.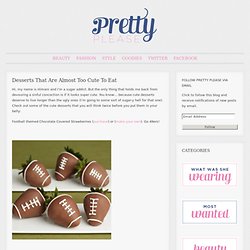 But the only thing that holds me back from devouring a sinful concoction is if it looks super cute. You know… because cute desserts deserve to live longer than the ugly ones (I'm going to some sort of sugar-y hell for that one). Check out some of the cute desserts that you will think twice before you put them in your belly: Football themed Chocolate Covered Strawberries (purchase) or (make your own). Death By Oreo Cupcakes. They are probably the best Oreo cakes I have ever tried.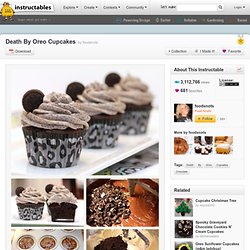 A lot of cake's that I have experimented with before are like a vanilla cake with bits of Oreo in them, which didn't really give them enough Oreo flavor. But these were a lot better. I used a dark chocolate fudge cake mix instead of just a regular chocolate cake mix, which went really well with the cookies and gave the cakes just a little more flavor. So, in this recipe there is Oreo's in the cake, in the frosting, and at the bottom is a Oreo surprise.
That's right, you put a whole Oreo at the bottom of the cake. Design Crush & Popsicles! Jun29 Not to sound full of myself, but I'm pretty sure this is the be all, end all of popsicle roundups.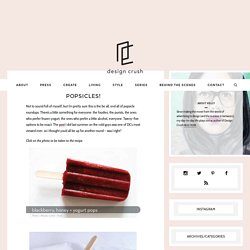 There's a little something for everyone: the foodies, the purists, the ones who prefer frozen yogurt, the ones who prefer a little alcohol, everyone. Tweny-five options to be exact. Bolo & Brigadeiro: CakePops para o Natal! O Natal chegou e com ele a vontade de fazer alguma coisa diferente para decorar a mesa, dar de presente, ou mesmo entrar no clima.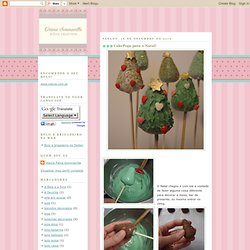 Estes pirulitos de bolo, conhecidos como Cake Pops são bem fáceis de fazer, e ficam uma delicia! A idéia saiu do Livro "Cake Pops: Tips, Tricks, and Recipes for More Than 40 Irresistible Mini Treats " da Bakerella.As receitas americanas pedem Candy Melt, que não temos aqui, mas o chocolate branco de cobertura( fracionado) funciona muito bem, pois seca muito rapido e é de facil manuseio. A dica é procurar o de melhor qualidade possível, pois alguams marcas não fazem produtos bons e o gosto é realmente terrível. University of Cookie. Ali Bee's Bake Shop: Brush Embroidery Tutorial. * All cookie designs and images are copyright protected.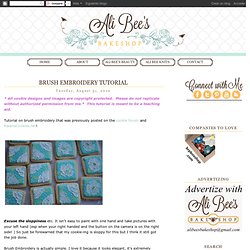 Please do not replicate without authorized permission from me.* This tutorial is meant to be a teaching aid. Tutorial on brush embroidery that was previously posted on the cookie forum and KarensCookies.net! Excuse the sloppiness etc. Bolos e Doces | A última vez que fui no restaurante Mocotó me apaixonei por uma sobremesa: o pudim de tapioca.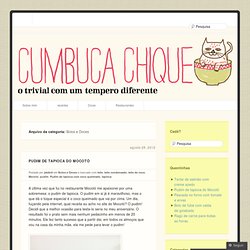 O pudim em si já é maravilhoso, mas o que dá o toque especial é o coco queimado que vai por cima. Um dia, fuçando pela internet, qual receita eu acho no site do Mocotó? O pudim! Decidi que a melhor ocasião para testa-lo seria no meu aniversário. O resultado foi o prato sem mais nenhum pedacinho em menos de 20 minutos. The Cookie Shop.
---