Stats
$54 Trillion: An In-debt View of the World. Soaring debts and plummeting stocks – the financial state of world hasn't changed a lot in the last years.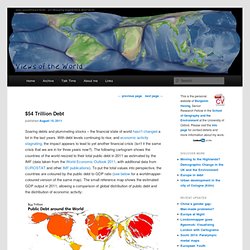 With debt levels continuing to rise, and economic activity stagnating, the impact appears to lead to yet another financial crisis (isn't it the same crisis that we are in for three years now?). The following cartogram shows the countries of the world resized to their total public debt in 2011 as estimated by the IMF (data taken from the World Economic Outlook 2011, with additional data from EUROSTAT and other IMF publications). To put the total values into perspective, the countries are coloured by the public debt to GDP ratio (see below for a worldmapper-coloured version of the same map).
Population Pyramids of the Whole World - from 1950 to 2050 - PopulationPyramid.net. PopulationMondiale.com - World population clock : suivez l'évolution de la population du Monde en direct ! Le PNB par habitant dans le monde - Les meilleures images de Google Earth ! HDR_2011_FR_Complete. Public Data Explorer. Indicateurs de développement humain Rapport sur le développement humain 2013, Programme des Nations Unies pour le développement Les données utilisées pour calculer l'Indice de développement humain (IDH) et autres indices composites présentés dans le Rapport sur le développement humain ...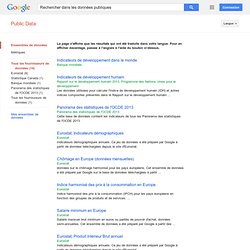 Eurostat, Indicateurs démographiques. Page d'accueil "Portail des statistiques du commerce ext rieur" Indicateurs internationaux de développement humain - PNUD. Statistiques | Accéder aux données. The Human Development Report Office has recently updated its website.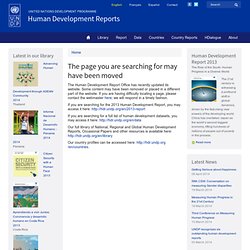 Some content may have been removed or placed in a different part of the website. If you are having difficulty locating a page, please contact the webmaster here; we will respond in a timely fashion. If you are searching for the 2013 Human Development Report, you may access it here:
---