Stats
Soaring debts and plummeting stocks – the financial state of world hasn't changed a lot in the last years. With debt levels continuing to rise, and economic activity stagnating , the impact appears to lead to yet another financial crisis (isn't it the same crisis that we are in for three years now?). The following cartogram shows the countries of the world resized to their total public debt in 2011 as estimated by the IMF (data taken from the World Economic Outlook 2011 , with additional data from EUROSTAT and other IMF publications ). To put the total values into perspective, the countries are coloured by the public debt to GDP ratio ( see below for a worldmapper-coloured version of the same map).
$54 Trillion: An In-debt View of the World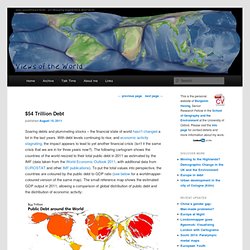 Le PNB par habitant dans le monde - Les meilleures images de Google Earth !
HDR_2011_FR_Complete
Who enjoys the fastest internet? South Koreans do, according to Ookla- the average South Korean Internet connection is more than 3x faster than the average connection in the US. Eastern European countries like Latvia and Lithuania are also at the top of the pool. Within the US, there is tremendous variation by state.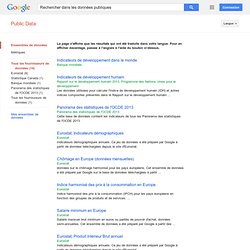 Page d'accueil "Portail des statistiques du commerce ext rieur"
Statistiques | Accéder aux données