Stats
Soaring debts and plummeting stocks – the financial state of world hasn't changed a lot in the last years. With debt levels continuing to rise, and economic activity stagnating, the impact appears to lead to yet another financial crisis (isn't it the same crisis that we are in for three years now?). The following cartogram shows the countries of the world resized to their total public debt in 2011 as estimated by the IMF (data taken from the World Economic Outlook 2011, with additional data from EUROSTAT and other IMF publications). To put the total values into perspective, the countries are coloured by the public debt to GDP ratio (see below for a worldmapper-coloured version of the same map).
$54 Trillion: An In-debt View of the World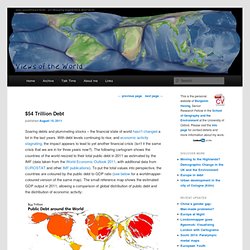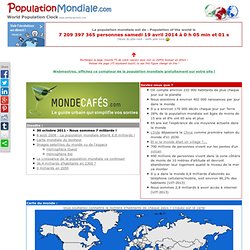 14 janvier 2014 - France : 66 millions d'habitants La France compte 66 millions d'habitants au 1er janvier 2014. Les régions de Paris, de l'ouest et du sud, avec les grandes métropoles Rennes, Nantes, Bordeaux, Toulouse et Montpellier, représentent la plus grosse part de la croissance démographique française. 13 janvier 2014 - Ethiopie : mise à jour Avec ses presque 90 millions d'habitants et son taux de croissance démographique dépassant les 3% par an, l'Ethiopie sera l'un des prochains grands d'Afrique. Mais le rattrapage à effectuer pour que le pays se développe enfin est immense, même s'il est en bonne voie.
Le PNB par habitant dans le monde - Les meilleures images de Google Earth !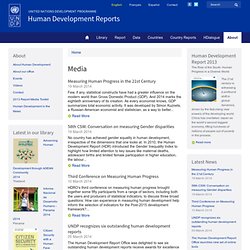 Few, if any, statistical constructs have had a greater influence on the modern world than Gross Domestic Product (GDP). And 2014 marks the eightieth anniversary of its creation. As every economist knows, GDP summarizes total economic activity. It was developed by Simon Kuznets, a Russian-American economist and statistician, as a way to better... No country has achieved gender equality in human development, irrespective of the dimensions that one looks at. In 2010, the Human Development Report (HDR) introduced the Gender Inequality Index to highlight how limited attention to key issues like maternal deaths, adolescent births and limited female participation in higher education, the labour...
HDR_2011_FR_Complete
Indicateurs de développement humain Rapport sur le développement humain 2013, Programme des Nations Unies pour le développement Les données utilisées pour calculer l'Indice de développement humain (IDH) et autres indices composites présentés dans le Rapport sur le développement humain ... Eurostat, Indicateurs démographiques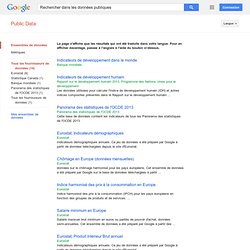 Page d'accueil "Portail des statistiques du commerce ext rieur"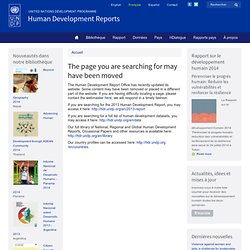 The Human Development Report Office has recently updated its website. Some content may have been removed or placed in a different part of the website. If you are having difficulty locating a page, please contact the webmaster here; we will respond in a timely fashion.