Carto
TIMEMAPS on Vimeo
geospatial | Scoop.it
Hergéographie : sur les traces de Tintin | Trop space.
News releases 2011
Worldmapper is a collection of world maps, where territories are re-sized on each map according to the subject of interest. There are now nearly 700 maps. Maps 1-366 are also available as PDF posters. Use the menu above to find a map of interest. In 2009 we added a series of maps of the world's population using a gridded cartogram approach: Worldmapper Population Atlas If you are interested in more background on map projections, read the short introductions about Worldmapper and map projections and gridded cartograms as a map projection. Find out more about the world's population in a new interactive map feature and our gridded country cartogram series: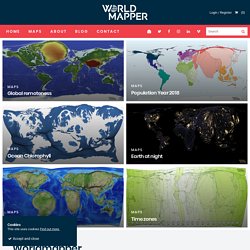 The Deadliest Years - Interactive Feature
Cartes géopolitiques - Diploweb.com, revue geopolitique, articles, cartes, relations internationales | Revue de tweets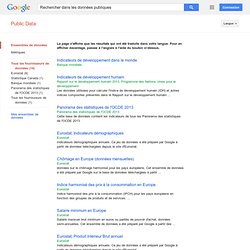 Indicateurs de développement humain Rapport sur le développement humain 2013, Programme des Nations Unies pour le développement Les données utilisées pour calculer l'Indice de développement humain (IDH) et autres indices composites présentés dans le Rapport sur le développement humain ... Eurostat, Indicateurs démographiques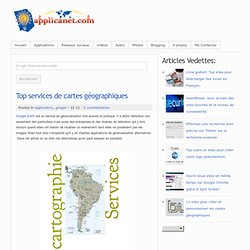 Google Earth est un service de géolocalisation très avancé et pratique. Il a attiré l'attention non seulement des particuliers mais aussi des entreprises et des chaines de télévision qui y font recours quand elles ont besoin de localiser un évènement dont elles ne possèdent pas les images. Mais tout cela n'empêche qu'il y ait d'autres applications de géolocalisation alternatives. Dans cet article on va citer ces alternatives qu'on peut essayer en parallèle. 1° openstreetmap: un service de géolocalisation.
Des améliorations sont régulièrement apportées à StatPlanet. Vérifiez régulièrement le site web pour les mises à jour et les nouvelles fonctionnalités. Pour de plus amples informations, contactez Frank van Cappelle. Plus de 300 indicateurs de développement internationaux
StatPlanet – Visualisation interactive de données par le biais de cartes et de graphes