Carto
TIMEMAPS on Vimeo
Afin de vous épargner toute nomination superfétatoire aux Darwin Awards, nous tenons à vous informer préalablement d'une réalité indubitable quant au contenu de ce site : la qualité de la cartographie ci-offerte, bien qu'en perpétuelle amélioration, ne permet pas pour l'heure la préparation de randonnées en milieu naturel. Si tel est votre projet, nous vous invitons à refouler au plus vite vos pulsions de mort, et à bien vouloir n'utiliser que des cartographies adéquates comme la série TOP25 de l'IGN. --> Le site FranceTopo.fr propose une cartographie de la France, gratuite et sous licence libre, essentiellement basée sur la mission SRTM de la NASA (pour le relief) et le projet de cartographie collaborative OpenStreetMap (pour... tout le reste).
geospatial | Scoop.it
Hergéographie : sur les traces de Tintin | Trop space.
News releases 2011
The Deadliest Years - Interactive Feature
Cartes géopolitiques - Diploweb.com, revue geopolitique, articles, cartes, relations internationales | Revue de tweets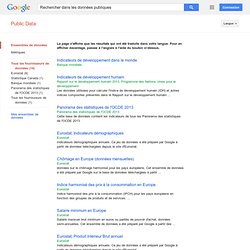 Who enjoys the fastest internet? South Koreans do, according to Ookla- the average South Korean Internet connection is more than 3x faster than the average connection in the US. Eastern European countries like Latvia and Lithuania are also at the top of the pool. Within the US, there is tremendous variation by state.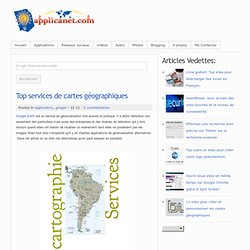 Google Earth est un service de géolocalisation très avancé et pratique. Il a attiré l'attention non seulement des particuliers mais aussi des entreprises et des chaines de télévision qui y font recours quand elles ont besoin de localiser un évènement dont elles ne possèdent pas les images. Mais tout cela n'empêche qu'il y ait d'autres applications de géolocalisation alternatives. Dans cet article on va citer ces alternatives qu'on peut essayer en parallèle. 1° openstreetmap: un service de géolocalisation.
Des améliorations sont régulièrement apportées à StatPlanet.
StatPlanet – Visualisation interactive de données par le biais de cartes et de graphes