Social
Get flash to fully experience Pearltrees
I make it a habit to re-read the "7 Habits of Effective People" by Stephen Covey to reinforce the principles in my own work habits. On my last review, it occurred to me that with the amount of time people spent engaging in social communications, how might those habits have been written different today?
Winston Rowntree is the author of Subnormality , the popular webcomic which he describes as containing "weird characters, endless opinions and occasionally huge walls of text."
Just like a superhero team or jewel thief gang needs each member to specialize in a different skill set, a good circle of friends also needs a wide range of useful skills. While a superhero team might need a guy who is superstrong and a guy who has a lot of gadgets, your friend team might consist of a guy who can get you discounts at the Best Buy and a guy who's totally cool with feeding your cats when you're out. When I suggest assembling such a team, I'm not suggesting you go around preying on emotionally vulnerable people who can do useful things for you and pretend to be their friend.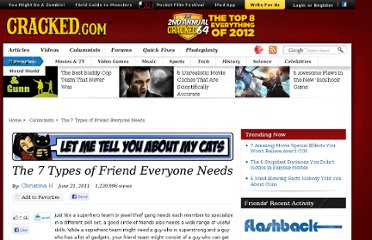 Myth #1 – Introverts don't like to talk .
I think this is all a bit too simplified, and that becomes glaringly obvious when he states, "within two thousand years, it is likely that everyone on earth will be descended from most of us" My first reaction is, no shit - of course they will be descended from us - who else can they descend from????