Fitness and exercise
I can't seem to find any at-home exercises to battle inner-leg flab.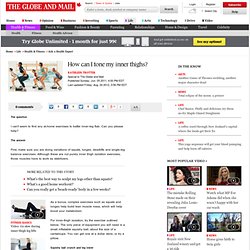 How can I tone my inner thighs?
Full Body Workout For Busy People
• Ask yourself the following questions when you feel the urge to eat: a. When did I eat last? b. What am I craving? c. Am I hungry or has my appetite been stimulated?
Control curves, Cut Calories, Right foods, exercise, stress control, Home made beauty recipes
At-Home Workouts: Get Fit Without Breaking the Bank