Fitness and exercise
I can't seem to find any at-home exercises to battle inner-leg flab.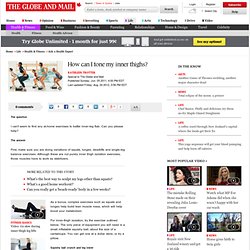 How can I tone my inner thighs?
Full Body Workout For Busy People
• Ask yourself the following questions when you feel the urge to eat: a. When did I eat last? b. What am I craving? c. Am I hungry or has my appetite been stimulated?
Control curves, Cut Calories, Right foods, exercise, stress control, Home made beauty recipes
The next month or two of work on Xanga 2.0 is going to be busy, so I wanted to share with everyone a roadmap of how we're thinking about things! We're dividing the work on this project into four basic phases. Phase 1.