Politics
Fair and Balanced
liberal-definition.gif (312×375)
If you're new to this site, here are some suggestions: • Pace yourself. Seriously. There is a great deal of information here, which can quickly become overwhelming. • Begin on this page for background information, read a few other articles, then come back for more when you've had a chance to digest what you've read. • The links on the left of every page will take you to other background material, analysis, and articles.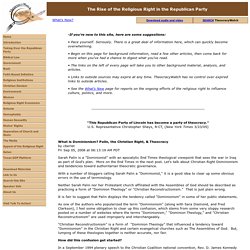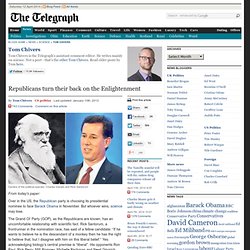 Republicans turn their back on the Enlightenment
Decline of the political species: Charles Darwin and Rick Santorum From today's paper: Over in the US, the Republican party is choosing its presidential nominee to face Barack Obama in November.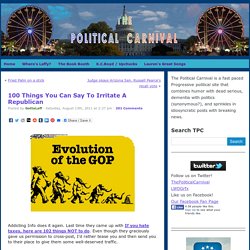 Addicting Info does it again. Last time they came up with If you hate taxes, here are 102 things NOT to do. Even though they graciously gave us permission to cross-post, I'd rather tease you and then send you to their place to give them some well-deserved traffic. This time around, they came up with 100 Things You Can Say To Irritate A Republican. Here are a few, but click on the link for all 100: If you want to enrage a conservative, I suggest saying the following:1.