Crafts
Upcycled Mason Jar Lights from Boots N Gus - Epheriell Designs. Wow.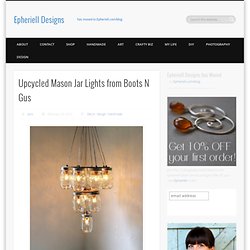 I was just blown away when I came across Boots N Gus! I mean, how completely awesome are their collection of upcycled mason jar lights and chandeliers? Wait, don't answer that – scroll down and have a peek first… …so, what did you think? I love the inventive designs and decadent chandeliers – combining something as mundane as an old jar with design style that takes it up a whole skyscraper of cool. Paper Mache Recipes. This page contains recipes for several kinds of home-made paper mache paste, and home-made gesso recipes for finishing your sculptures.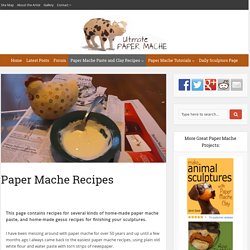 I have been messing around with paper mache for over 50 years and up until a few months ago I always came back to the easiest paper mache recipes, using plain old white flour and water paste with torn strips of newspaper. Now, however, I have abandoned the traditional layered paper process and use my new paper mache clay recipe and/or the even newer silky-smooth air-dry clay recipe for most my sculptures. Paper Mache Clay. Several years ago I developed a new recipe for a sculptural material I call "paper mache clay."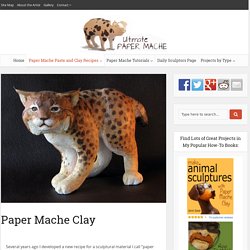 This material is so easy to use and so easy to make that I now use it exclusively for all my paper mache sculptures. The recipe has now gone "viral" and is being used by artists all over the world. It might be a bit more accurate to call this material "home-made air-dried cellulose-reinforced polymer clay," but that's way too hard to say (or type!) This to That (Glue Advice) Quotes On Canvas Make Meaningful Wall Art. If there are two things I love it is family photos and wall words.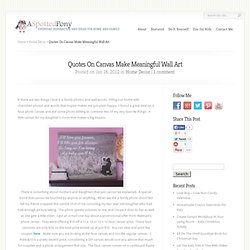 Filling our home with cherished photos and words that inspire makes me just plain happy. I found a great deal on a faux photo canvas and did some photo editing to combine two of my very favorite things. Handmade crafters label branding kit by Cathe Holden. Four amazing branding label sets in 4 splendid colors: Black, Celery, Turquoise and Cigar.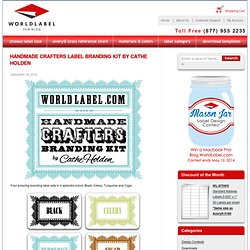 Each color set has 14 different sizes. Start branding the products you sell! Label your bottles, tin containers, envelopes, cartons and any other product packaging with the same amazing design. Each color set is available in 2 different types of fillable printable PDF templates: one is auto-fill: insert your info and hit tab and the complete label sheet fills up.
Decor. Clothing and Accessories. Stencilling, Fonts, Clip Art. Walls. Furnishings.
---