Lefties
Facts About Being Left-Handed
Left Handers Day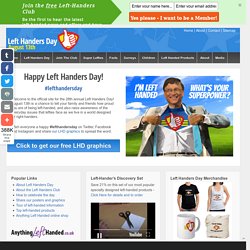 Welcome to the official site for the Left-Handers Club, and the 23rd annual celebration of left-handers superiority!! All year round, we fit in with home and office layouts designed for right-handers' comfort – put up with doors, cookers, sinks, computer mice, keyboards and desks that are efficient for right-handers to work at, and hundreds of times every day we contort ourselves using back-to-front tools and gadgets that make us look clumsy and awkward in our efforts to make them to work… But NOT TODAY! Because on this special day, it is your chance to GET YOUR OWN BACK on your right-handed friends colleagues and family, by designating your personal space as a LEFTY ZONE where everything must be done left-handed!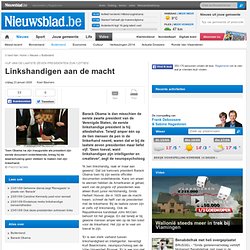 Linkshandigen aan de macht
Barack Obama is dan misschien de eerste zwarte president van de Verenigde Staten, de eerste linkshandige president is hij allesbehalve. Terwijl amper één op de tien mensen de pen in de linkerhand neemt, waren dat er bij de laatste zeven presidenten maar liefst vijf. 'Geen toeval, want linkshandigen zijn intelligenter en creatiever', zegt de neuropsycholoog 'Ik ben linkshandig, raak er maar aan gewend.' Dat zei kersvers president Barack Obama toen hij zijn eerste officiële documenten ondertekende.