Things to do in London
Medieval Banquet Dinner - London - isango.com. Bath Tours, Stonehenge Tours. This tour to Windsor, Bath and Stonehenge departs from Victoria Coach Station (Gate no 1-5) at 0845h (08:45am).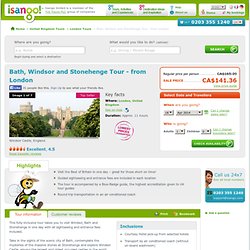 Board your air-conditioned coach and set out to explore some of the most enduring landmarks of England, accompanied by an English-speaking guide. Reach Windsor at about 0950h (09:50am). The tour will begin with a visit to Windsor Castle, which is an official residence of the Queen. The castle is about 900 years old. Stonehenge Tour, Original London Sightseeing. The pre-historic monuments at Stonehenge have for centuries baffled experts who still debate whether they were intended as an observatory of the moon, a temple to the sun, or an elaborate cemetery.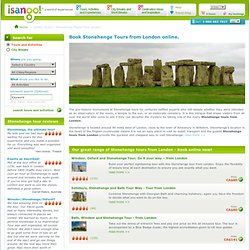 It is this intrigue that draws visitors from all over the world who come to see if they can decipher the mystery by taking one of the many Stonehenge tours from London. Stonehenge is located around 90 miles west of London, close to the town of Amesbury in Wiltshire. Stonehenge's location in the heart of the English countryside means it is not an easy place to visit by public transport and the guided Stonehenge tours from London provide the quickest and cheapest way to visit Stonehenge. read more >> There are a great range of Stonehenge tours from London on sale. Combine your visit to Stonehenge with other highlights of Southern England such as Bath or Oxford or get the best of both worlds with a combination ticket that includes a Stonehenge tour from London and London sightseeing.
The London Pass, London Sightseeing. For Activities Edit the product you wish to book on the travel cart and change the number of travelers to get an updated price quote and confirm availability.
I want to increase the number of travelers after booking completion? Bike Tour of London, London Cycling Tour, Cycling Tour of London. For your excitingRoyal London Bike Tour you should meet your guide outside the Queensway Tube (Central Line) around 15 minutes before the start of the tour.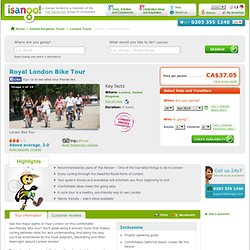 He/she will be wearing a company T-shirt, holding a sign, and standing by the two red phone booths. After meeting your guide at the Tube station you will walk just a few yards to pick up your bike. Insider London Walking Tours: Quirky London, Book Online! Take a sideways look at London on the Insider London Walking Tours: Quirky London.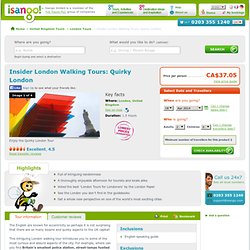 Please meet the guide outside the Marks & Spencer store across from Covent Garden tube station. He or she will be holding an 'Insider London' sign. London often defies logic in the most surprising way. This 1 ½ hour tour is full of weird anecdotes and fun facts. London Zoo, London Zoo Tickets | Book Online! There is no hotel pick up for your London Zoo experience.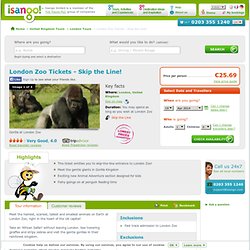 Make your way to London Zoo at Regent's Park for your exciting day out. The nearest tube stops are Camden Town, Baker Street, Regent's Park, and Marylebone. Buses 274 and C2 stop at the Zoo. Your confirmation voucher acts as a fast track ticket, which entitles you to use the priority entrance and avoid the queue. One of the biggest zoos in the world, London Zoo has over 750 species of animal, from the smallest to the tallest. Beatles Tour, From London to Liverpool. The tour starts at Euston Rail Station at 0630h (06:30am).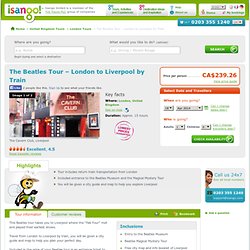 You will be met by a representative at the main ticket office who will give you a round trip train ticket (with reserved seats), tickets for the Magical Mystery Tour and Beatles Museum, a city map and an information booklet. There is no guide on this tour. London Bridge Experience, The London Bridge Experience | Book On. This is a ticket to The London Bridge Experience.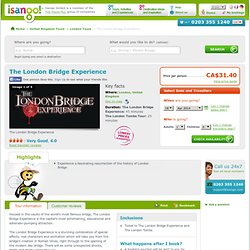 The experience begins from the minute you arrive – at the entrance in Tooley Street, right under London Bridge itself, and there's a good chance some of the characters from the London Bridge Experience will be out and about to greet you. As you come inside you will enter a medieval world of knights and chivalry, reflecting a famous joust on the bridge in 1390, and then it's through to the action with your very own Victorian tour guide. As you work your way around the London Bridge Experience you will see series of stunning displays, you'll be entertained and amazed by computer generated images of famous figures such as Sir John Rennie, Charles Dickens and Braveheart himself; William Wallace.
London Shopping Tour - London Walking Tour. Central London is the lively historic heart of one of the world's most vibrant cities.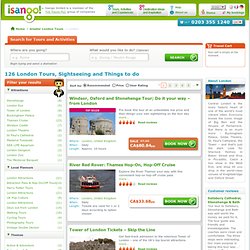 Everyone knows the iconic image of Big Ben and the Houses of Parliament. But there is so much more – Buckingham Palace, Globe Theatre, St. Ghosts of London and Jack The Ripper Tour, Ghost Tours, Book Onl. Explore the scary side of town on the Ghosts of London and Jack the Ripper Tour.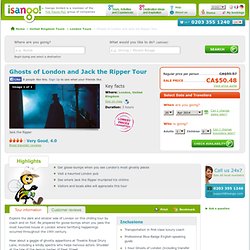 There is no hotel pick-up for this tour. You should make your way to pick-up point at The Original Tour Visitors Centre, (17-19 Cockspur Street, Trafalgar Square, London SW1Y 5BL) at 1900h (7:00pm).
---