Brainiac
When TV newscaster Diane Sawyer was asked the secret to her success, she said, "I think the one lesson I've learned is there is no substitute for paying attention." Are you thinking, "I agree, but HOW do we improve our ability to focus and maintain attention -- no matter what?" These five FOCUS tips can help you concentrate better -- whether you're working in a busy office, studying at school, sitting in a meeting, or trying to finish a project.
5 Tips to Improve Your Concentration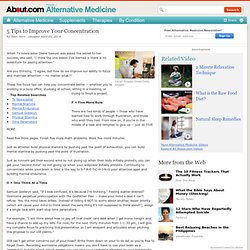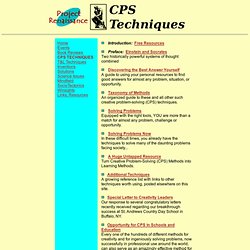 Preface: Einstein and Socrates Two historically powerful systems of thought combined Additional Techniques A growing reference list with links to other techniques worth using, posted elsewhere on this site. Solving Problems Equipped with the right tools, YOU are more than a match for almost any problem, challenge or opportunity. Solving Problems Now In these difficult times, you already have the techniques to solve many of the daunting problems facing society...
Project Renaissance, Creative Problem-Solving Techniques
Table of Contents - Nature of Understanding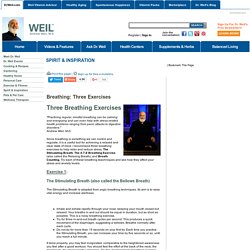 Breathing: Three Exercises
"Practicing regular, mindful breathing can be calming and energizing and can even help with stress-related health problems ranging from panic attacks to digestive disorders." Andrew Weil, M.D. Since breathing is something we can control and regulate, it is a useful tool for achieving a relaxed and clear state of mind. I recommend three breathing exercises to help relax and reduce stress: The Stimulating Breath , The 4-7-8 Breathing Exercise (also called the Relaxing Breath), and Breath Counting .
IQ Test 20 Questions