UK
- Des officiers de police en tenue antiémeute se tiennent devant un immeuble en feu, à Tottenham. REUTERS/Stefan Wermuth. -
Emeutes de Londres: les soubresauts d'une vieille société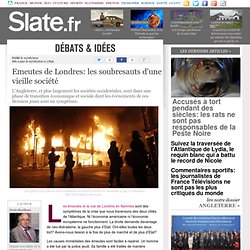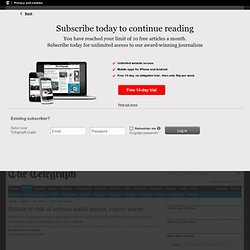 Britain at risk of serious social unrest, report warns
Ninety-five countries were ranked in the "high" or "very high" risk bracket, while Britain was placed 132nd on the list, alongside Ireland, and behind France and the US. Top of the list were Zimbabwe, Chad, the Democratic Republic of Congo, Cambodia and Sudan, and there were three European countries among the 27 rated as "very high risk" – Ukraine, Moldova and Bosnia & Herzogovina. Citing a recent poll for Prospect magazine, in which 37 per cent predicted serious social unrest in British cities, the report identified the use of immigrant labour at a time of soaring unemployment as a possible flashpoint for unrest in Britain. It said: "The mood of the country is also revealed by the results of a recent FT/Harris survey that showed that almost 80 per cent of British adults believe that immigrants should be asked to leave the country if they do not have a job."
London riots map: all incidents mapped in London and around the UK
Alexis Sebastian Bailey - 31, from Battersea. Arrested in Richer Sounds and pleaded guilty to burglary with intent to steal. Given bail but must adhere to curfew. David Beswick - 31-year-old coach drive from Anson Street, Eccles.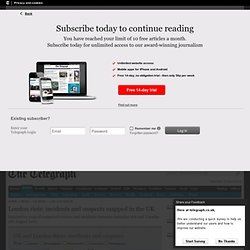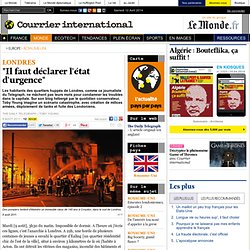 Les habitants des quartiers huppés de Londres, comme ce journaliste du Telegraph, ne mâchent pas leurs mots pour condamner les troubles dans la capitale. Sur son blog hébergé par le quotidien conservateur, Toby Young imagine un scénario catastrophe, avec création de milices armées, déploiement de tanks et fuite des Londoniens. The Daily Telegraph | Toby Young | 9 août 2011 | Mardi [9 août], 3h30 du matin. Impossible de dormir.
LONDRES • "Il faut déclarer l'état d'urgence"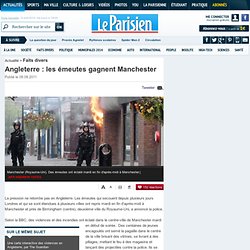 La pression ne retombe pas en Angleterre. Les émeutes qui secouent depuis plusieurs jours Londres et qui se sont étendues à plusieurs villes ont repris mardi en fin d'après-midi à Manchester et près de Birmingham (centre), deuxième ville du Royaume-Uni, a annoncé la police. Selon la BBC, des violences et des incendies ont éclaté dans le centre-ville de Manchester mardi en début de soirée.
Londres : un mort dans les émeutes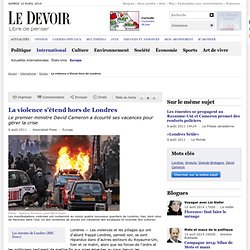 Londres — Les violences et les pillages qui ont d'abord frappé Londres, samedi soir, se sont répandus dans d'autres secteurs du Royaume-Uni, hier et ce matin, alors que les forces de l'ordre et les politiciens tentaient de mettre fin aux pires émeutes au pays depuis les affrontements raciaux qui avaient mis à feu la capitale dans les années 80. À Londres, où seront présentés les Jeux olympiques d'été de 2012 dans moins d'un an, des groupes de jeunes ont incendié des immeubles, des véhicules et des poubelles, et se sont battus contre les policiers à coup de feux d'artifice et de bouteilles. À Birmingham, la deuxième plus grande ville d'Angleterre, des dizaines de personnes ont vandalisé des boutiques dans le principal quartier commercial, propageant la violence à l'extérieur des murs de Londres pour la première fois depuis le début des émeutes, samedi soir.
La violence s'étend hors de Londres