Ferramentas Web 2.0
SlideBoom - upload and share rich powerpoint presentations online. Visual tools - e-Twinning. A melhor maneira para criar e compartilhar quadrinhos. Seja bem-vindo(a) ao Flickr - Compartilhamento de fotos. Scribd. What do I get with my subscription?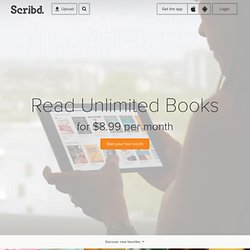 Your subscription enables you to read thousands of professionally published, popular books in a wide variety of genres on Scribd.com and on supported mobile devices. In addition, you will have full access to millions of user-contributed written works that have been published on Scribd like short stories and essays. How many books can I read each month? Read as much as you want, whenever you want. Scribd doesn't limit the number of books you can read. Now go mobile with SlideShare. Issuu - You Publish.
Broadcast Yourself. Sites - Web sites e wikis gratuitos. Prezi - The Zooming Presentation Editor. Cacoo - Create diagrams online Real time collaboration. Video Slideshow Maker with Music.
Knovio | Online Video Presentations Made Easy | PowerPoint + Webcam. PresentationTube. 10 Free Online Image Editing Tools. One of the challenges students face when creating multimedia projects for school assignments is finding images that are appropriate in both content and size for the project on which they are working.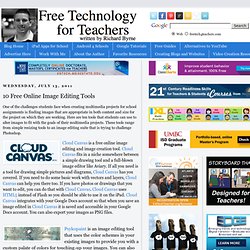 Here are ten tools that students can use to alter images to fit with the goals of their multimedia projects. These tools range from simple resizing tools to an image editing suite that is trying to challenge Photoshop. Cloud Canvas is a free online image editing and image creation tool. 4shared.com - free file sharing and storage. Conversations in the cloud. Wiki-Place - home. PrimaryWall - Web based sticky notes for schools. Embedit.in — Any file, in your website. WordItOut - Generate word clouds (and make custom gifts) Scribble Maps - Draw on google maps with scribblings and more!
The Awesome Highlighter >> Highlight text on web pages. Pretty Graph software for scientists, engineers, business: Make professional charts, plots, presentations online. Create Great-Looking Interactive Quizzes (in minutes) - embed in any website / blog! Mapeamento mental - Crie Mapas da Mente online. CorkboardMe | Work Together in Real-Time.
---