Blogs sobre tipografía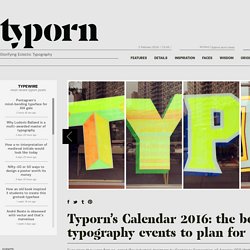 In 1936 the German Standards committee Deutsches Institut Normung (DIN) officially proposed DIN 1451 as the standard type of lettering to be used in the field of road traffic. The purpose of this standard was to lay down a style of lettering which is timeless and easily legible. Unfortunately, these early letters lacked elegance and were not properly designed for typographic applications. Ever since, several type foundries adopted the original designs for digital photocomposition.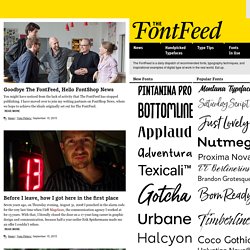 TYPO San Francisco Next Week Excitement is building in the Bay Area, both at FontShop's San Francisco office and the local (and not-so local) design community. For two inspiration-packed days, on Thursday April 10 and Friday April 11, some 30 international speakers will delight the audience at TYPO San Francisco "Rhythm" in the Yerba Buena Center for the Arts. The organisation predicts a sell-out, so get your tickets sooner rather than later. Read more
Use Typography
I recently created some loose brush lettering for Team Average – a short film presented by Hurley and Monster Children – which debuted in Los Angeles & Sydney this June. The film follows some of the world's kingpin surfers & skaters doing their thing and just being pretty damn awesome across New Zealand. It features Dylan Rieder, Natas Kaupas, Greyson Fletcher, Ryan Wilson, Jack Fardell, Alex Gray and Chippa Wilson. The various versions of my brushwork were used on the Hurley tees and in the titles of the film directed by the talented Riley Blakeway.
for the love of type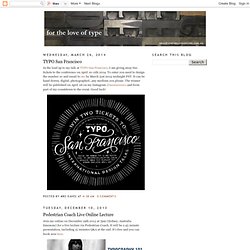 Uno de los diseñadores que más admiro, es el maestro ambigramista John Moore, específicamente por el arriesgado juego de lenguajes de forma y contraforma que posee. Dentro de su trabajo se encuentran avanzados conceptos de formas texturadas, formas simples, complejas, sucias, limpias, saladas, dulces, cítricas, graves, ásperas y hediondas. Sin embargo, lo más poderoso de sus proyectos, son lo inspirador. Llevar la forma al extremo, para concluir un mensaje simplísimo y minimalista suele ser su ley. El trabajo de las formas reversibles que hacen los ambigramistas, son un caso de inspiración, porque a mi modo de ver, entran y disfrutan jugando con lo prohibido: desafiar las leyes de la percepción.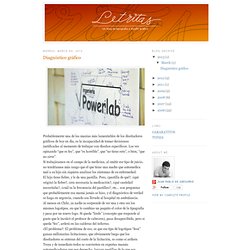 Letritas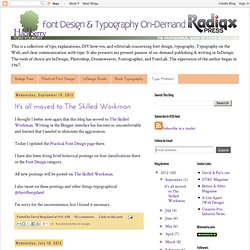 Font Design & Typography
My Wednesday typography posting on The Skilled Workman today is about one of your major choices in book typography. As you know the base upon which your pages are built is the normal body copy paragraph style. Smooth type color here is imperative and all specialized paragraphs are seen relative to the basic body copy style. One of those areas often missed is what I call the second interior alignment—that vertical line within your type built off the first line indent. As you can see above, this interior alignment is what makes your bullets pop off the page. It can also be a strong tool to help hold your pages together when you are designing a complex non-fiction book.
typeish.com
Here's a glorious bit of design nostalgia for the New Year. It's hardly a new find on the web; designer Nick Job first started this archive of the British Rail identity manuals in 2011, but I've just been reminded of it. Somehow I've never written about it either, which is a bit of an oversight given the entirely-unofficial and tongue in cheek name of this site: the British Rail alphabet and signage guidelines were also used by the British Airports Authority and National Health Service, making them as much a government standard as Britain ever usually manages. The alphabet had two variants, one for dark-on-light type and one for light-on-dark.
Ralf Herrmann's Typography Weblog |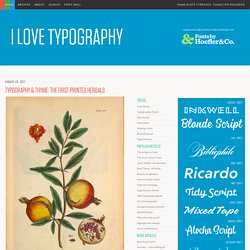 This Week in Fonts A monumental family from Hoefler & Co, a casual sans by Type Supply, a seaworthy display from Kyle Wayne Benson, a ferry inspired face by Letters from Sweden, an extensive script family from Martina Flor, a strong grotesk by The Northern Block, a functional slab from ReType, and a bright iconset by Symbolset. Continue reading this article The Sign Painter
TypeNeu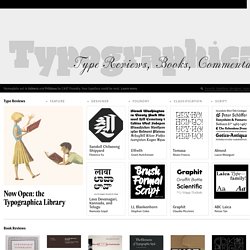 Colophon Typographica is a review of typefaces and type books, with occasional commentary on fonts and typographic design. Edited by Stephen Coles and designed by Chris Hamamoto. Founded in 2002 by Joshua Lurie-Terrell.
Just My Type I know what you're thinking: One more collection of classic typeface examples from your colleagues & contemporaries to throw on the pile, right? Wrong.
Type is typically one-color. Of course, after it's set, a user can manipulate letters with a texture or a gradient; but out of the box, a font is usually capable of a single color. This is where layer fonts change the game. With glyphs that are designed to be overlaid on top of each other, layer fonts make it easy to apply multiple colors and other effects without extra steps or leaving the comfort of your typesetting or layout app.