Art
Recursos Culturales
Henri Matisse (1869–1954) | Thematic Essay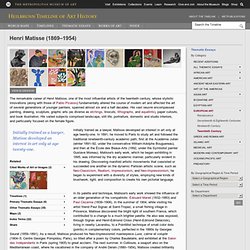 The remarkable career of Henri Matisse, one of the most influential artists of the twentieth century, whose stylistic innovations (along with those of Pablo Picasso) fundamentally altered the course of modern art and affected the art of several generations of younger painters, spanned almost six and a half decades. His vast oeuvre encompassed painting, drawing, sculpture, graphic arts (as diverse as etchings, linocuts, lithographs, and aquatints), paper cutouts, and book illustration. His varied subjects comprised landscape, still life, portraiture, domestic and studio interiors, and particularly focused on the female figure.
BBC.Modern Masters.2of4.Matisse.HDTV.720p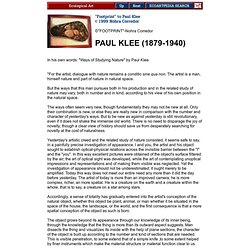 Paul Klee (1879-1940) "Movement" by Nohra Corredor
In his own words: "Ways of Studying Nature" by Paul Klee "For the artist, dialogue with nature remains a conditio sine qua non. The artist is a man, himself nature and part of nature in natural space. But the ways that this man pursues both in his production and in the related study of nature may vary, both in number and in kind, according to his view of his own position in the natural space. The ways often seem very new, though fundamentally they may not be new at all. Only their combination is new, or else they are really new in comparison with the number and character of yesterday's ways.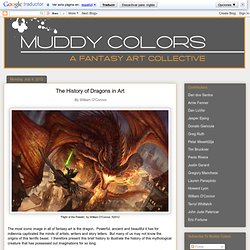 The History of Dragons in Art
-By William O'Connor The most iconic image in all of fantasy art is the dragon. Powerful, ancient and beautiful it has for millennia captivated the minds of artists, writers and story tellers.
RICHARD SOLOMON ARTISTS REPRESENTATIVE: RSAR Presents: Heroes and Villians
Once Upon a Time In Monsterland - Emily Tetri Sketchblog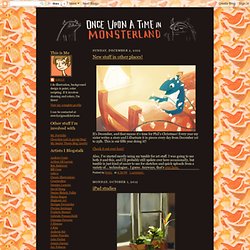 Visited Wisconsin recently And a question: Does anyone know about calibrating monitors for Cintiq 24HD or know about Photoshop color profiles? This is what my colors looked like while painting: And then they come out crazy saturated on my other monitor or when I save them out. But I can screenshot it and have it look like what I was painting, so that's what makes me think it's some kind of color profile thing.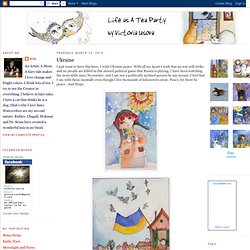 Life as a tea party
Where? Good question. We moved. It was a long a hard move, and after 6 years of staying in one place it was not easy to pack up and go.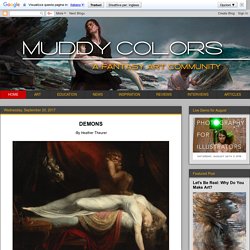 by Donato Why do I teach? This question is raised often as I perform many roles as a teacher; as an adjunct professor at the School of Visual Arts in New York City; as an illustrator in the Illustration Master Class; sharing online with professionals in the SmArt School; hosting various workshops around the country; providing professional lectures at conventions; and now a guest professor this Spring at my alma mater Syracuse University. You would not be mistaken to think I am a full time professor given how much time I devote to classes and their participants! But teaching accounts for barely 10% of my income.
Oodles of Doodles
Close Sign In Using Facebook or Forgot your password? Forgot your username or email? Reopen your account?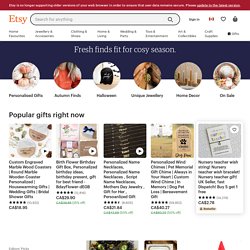 Posted by Justin Cooper, Tuesday, June 28, 2011 12:47pm It's no surprise that when it comes to selling more of your t-shirts, it all comes down to paying attention to the details. Here is what the best selling members on Society6 do: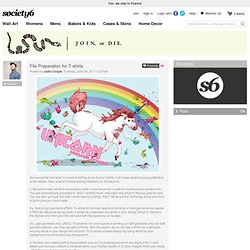 File Preparation for T-shirts
RSS Feeds ArtsConnectEd provides a range of dynamically updated feeds you can subscribe to through your web browser or news reader. Learn more ArtsConnectEd is Cooliris enabled, allowing you to use a "3D Wall" to browse the entire image collection with ease and speed.Download the Cooliris plug in for your browser ArtsConnectEd is Open Search enabled, allowing you to add ArtsConnectEd to your browser's search engine options (Firefox and Internet Explorer) - simply pull down the search list while on the site and add "ArtsConnectEd Collection Search". Developers: ArtsConnectEd search results are available as XML for use with your own application. Please let us know if you're using OpenSearch!
process.arts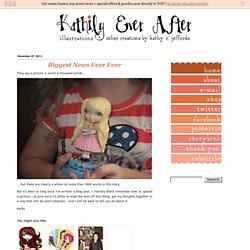 Kathily Ever After
Howdy. :) This past week, I have been playing a lot with color (and from my greeting, I guess, embracing my inner cowgirl). Mostly I've been tweaking some pieces you already may've seen (because as I might've mentioned before, I'm a chronic tweaker): Why, yes, you did!
Artista Blog
This is my picture book collection, it is never whole, because I always give pieces away to spread the great books.
artista how to