Jeux videos
GameUp

VIACOM INTERNATIONAL MEDIA NETWORKS FRANCE annonce, à compter de ce jour, le lancement d'une Appli G ... Pour la toute première fois sur GAME ONE, suivez les aventures de Monkey D. Luffy dans ONE PIECE, l' ... Jusqu'au 22 décembre mobilisez-vous et foncez pour voter pour votre meilleur gameclip de l'ann ... Les VGX, anciennement appelés VIDEO GAME AWARDS, c'est la plus grande cérémonie au monde qui récompe ... Ps4 Vs Xbox One : Une semaine après leur diffusion aux USA, les 2 épisodes spéciaux de South Park dé ...
Halloween est passé. Avec ses sorcières, citrouilles, fantômes, membres arrachés, sang dégoulinant et tout ce qui s'en suit. J'ai été confrontée à mes peurs enfantines, le temps d'un week-end hispanique dans un parc d'attractions à sensations. A Port Aventura, pour Halloween, ils mettent en place des maisons hantées, avec du décor bien flippant, et des acteurs grimés en monstre, plus vrais que nature.
9irl5
U.S. demand for digital games grows 11% in 2013 The U.S. digital games market continues to expand at a brisk pace thanks to expanding demand for mobile and free-to-play titles, including global sales juggernauts like CrossFire and League of Legends. Subterfuge: Designing a strategy game that takes a week to play The creators of Flower Garden and World of Goo are teaming up to develop Subterfuge, a mobile game of diplomacy and strategy that plays out in real time -- at very low speed.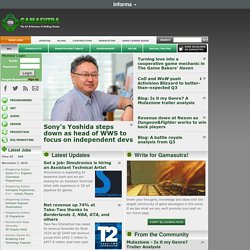 Release date: Mar, 2014Infamous: Second Son (Limited Edition) (Action) nfamous: Second Son is the third installment of the Infamous Series, a sequel to Infamous and Infamous 2 and only coming in PlayStation 4. This series will feature a new setting, a new protagonist, and a seemingly totalitarian government controlled by the police. The game is set seven years after the world of Cole MacGrath and stars a new protagonist, Delsin ... [read more] Release date: Mar, 2014Hatsune Miku -Project DIVA- F 2nd [w/Pre-order Bouns] (Music)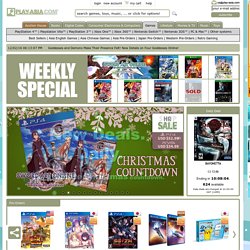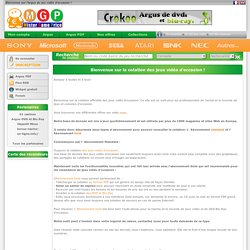 Bonjour à toutes et à tous! Bienvenue sur l' Argus officiel des jeux vidéo d'occasion. Ce site est un outil pour les professionnels de l'achat et la revente de jeux et consoles d'occasion.