Jeux videos
GameUp
Halloween est passé. Avec ses sorcières, citrouilles, fantômes, membres arrachés, sang dégoulinant et tout ce qui s'en suit. J'ai été confrontée à mes peurs enfantines, le temps d'un week-end hispanique dans un parc d'attractions à sensations. A Port Aventura, pour Halloween, ils mettent en place des maisons hantées, avec du décor bien flippant, et des acteurs grimés en monstre, plus vrais que nature.
9irl5
RockYou's new strategy: Rescue games that other publishers don't want RockYou is taking over Digital Chocolate and Playdom titles in two separate deals that bring 3 to 4 million players -- and some of the games' developers -- into its direct purview. Video: Breaking down the seven-year development of Antichamber Indie developer Alexander Bruce shares what his development philosophy and what he learned in a postmortem discussion of the development of Antichamber given at GDC 2014.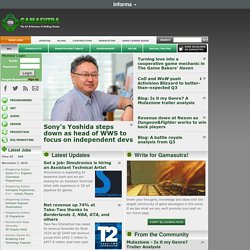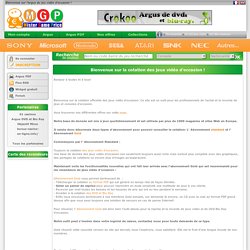 Bonjour à toutes et à tous! Bienvenue sur l' Argus officiel des jeux vidéo d'occasion. Ce site est un outil pour les professionnels de l'achat et la revente de jeux et consoles d'occasion.