Multiple Ideas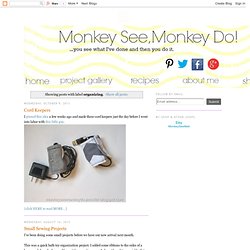 In our new house, I am anticipating having a crafting 'studio'. It'll be more like a crafting area in our master bedroom, but studio sounds a lot more fancy! I've been making plans for storage solutions that are aesthetically pleasing yet frugal. I've also fallen in love with spray paint--remember this project? (Don't worry, I'm pregnant, so I only use the paint outside in between the tremendous April rainstorms.)
organizing
Dezember 2010
art for housewives | craft making for recycling and handiwork for meditating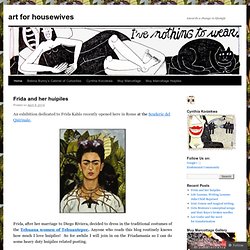 Below are fotos of a fabric charm bracelet I recently made. It's name is "Je Suis Muy Wild", the wild coming from the fact that it makes use of animal print fabric. I recently posted about the love many have for animal prints–sometimes we just need to roar, I guess. fotos of "Je Suis Muy Wild" fabric bracelet Unfortunately, I am not in a very good mood today because I didn't get much sleep last night thanks to "The Elegance of the Hedgehog" by Muriel Barbery.
Tatertots and Jello
January 16, 2014 By Jen 3 Comments This post is brought to you by Shutterfly. I just love Valentine's Day!!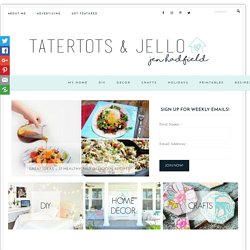 WGW
diy
Coastal, Beach + Nautical Decor + Interiors, Driftwood + Shell Decor, Crafts, Art + more
Trees=Modern Art » Curbly | DIY Design Community « Keywords: trees, photoart, abstract
You can never have too much art, in my opinion. But you SHOULD make sure you don't spend too much on it. I made my friend Syrina take some snaps of trees today, 'cause I can't find my digicam. :( Her instructions were to take photos of branches against the sky, so that at least two sides of the frame were sky and two sides were filled with branches.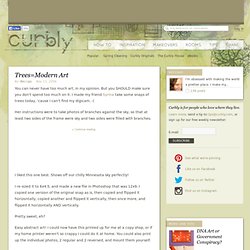 While I was away on our camping trip last week my clever friend Marichelle shared these fabulous results from her recent handmade dreamcatcher obsession over on her blog. I'm smitten I tell you! Smit-ten! A quick google search yielded several additional DIY Dreamcatcher results that I love…so I thought I'd post a mini roundup for you all, in case you too feel like being bitten by the dreamcatcher bug. xo Ez DIY Dreamcatcher by Jena of Modish | Dreamcatcher How-to from Lune Vintage Blog | DIY: Natural Dreamcatcher from Foam Magazine | Dreamcatchers from Odette New York Blog (via Lifeflix)
Today I Love: DIY Dreamcatchers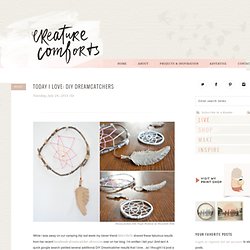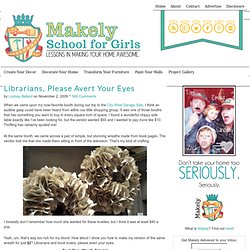 Librarians, Please Avert Your Eyes
Supplies:10″ foam wreath ($1 at Dollar Tree)Paperback novel ($1 at Dollar Tree – depending on the length of the book, you may need two)Brown and/or gray craft paintGlue gun & glue sticksSmall strip of ribbonA few paper towelsA few straight pins (optional) 1. Assemble your cast of characters. I felt slightly guilty about purchasing an author's work from the Dollar Tree for the sole purpose of ripping up. I read a few pages of Loving Charity just to make sure I wasn't about to destroy a literary classic; let me assure you that I wasn't.
Residing in my house: clear vinyl, CB2 catalog, contact paper, sewing machine. Clearly these needed to join forces and become business card holders. (Not that I need another one, but it seemed good to try sewing with clear vinyl on a small, non-threatening first project.) 1.
How About Orange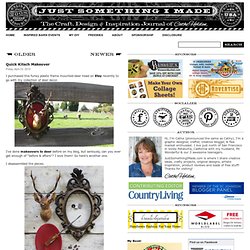 Quick Kitsch Makeover
I purchased this funky plastic frame mounted-deer head on Etsy recently to go with my collection of deer decor. I've done makeovers to deer before on my blog, but seriously, can you ever get enough of "before & afters"? I love them! So here's another one. I disassembled the pieces. Painted several coats of white gesso on the head and frame.
Handicrafts,Crafts and Artisans,Handicrafts of India,Arts and Crafts,India,SouthAsia,SouthEast Asia,Bangladesh,Bhutan,Maldives,Nepal,Pakistan,Sri Lanka,Crafts,Artisans,Handlooms,Textiles,Craftspersons
Home Decorating Ideas — TipJunkie Decorating
Need WordPress help? Blogger to WordPress blog migrationCustomized WordPress blog designsWordPress help View my blog design portfolio. blog sites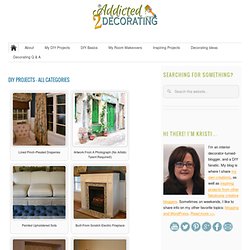 DIY Projects For Your Home