MMORPG'S
Today, the 13th of April, marks the final milestone for Karos Online as it launches off to greater heights with our players' induction to Rosh Online: The Return of Karos. With all of Karos Online's hits and misses, highs and lows, defeats and triumphs, it has been both an honor and a privilege playing and working with all the Karos Warriors of the past and the present since its Closed Beta Testing birth in August of 2009. As the new publisher for Rosh Online, Ignited Games is welcoming all players from Karos Online with great benefits and events! Sign-up now and get your Karos Online accounts verified to get the most exciting transfer packages and benefits! Only verified Karos players will have their account information transferred to Rosh Online so don't be left out! To begin playing the Rosh Online, please visit the Rosh Online sign up page here .
KAROS ONLINE
Fiesta Online - Official website | Play for free, Massively Mult
Imagine a world where thousands of players live and explore a colorful and magical fantasy world.That world is Fiesta Online. Players can complete missions, hunt for monsters or take part in epic Kingdom Quests – all together with friends! Colorful graphicsEasy and fast progressionUp to 6 classesLarge variety of questsGuilds: fight alongside your friends to be the most powerful guild!Help and have fun with other playersMaster & Apprentice System: gain levels faster as Apprentice and pass on your knowledge as MasterWedding System: find your partner and fight together in IsyaDaily Quest System: complete these quests and be rewarded with fame and bonuses. You will then be able to exchange the fame for Premium Items //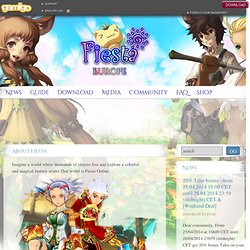 Neo Steam: The Shattered Continent
Ether Saga Online - Free Anime MMORPG | Play Free Online Video G
.: Dream of Mirror history - Gametribe :.
King of Kings III Dear gamigo-gamer! As you all know, all over the world, the Easter-season has started.
Webzen - Global Games Portal
Runescape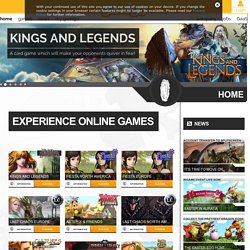 Black Prophecy: Home
King of Kings III The weekly maintenance will end soon and you will be able to get back into fight. A short overview on today's changes can be found in our forum.German Patchnotes English PatchnotesYour King of Kings ... Loong
Fantasy Earth Zero(FEZ) - Enjoy Free-to-Play Action Online Game
MilMo – Fun is just a click away
Bright Shadow – 100% Free to Play 3D MMORPG! Custom Characters,
Neverland Online -- Q-fancy MMORPG Webgame
Wonderland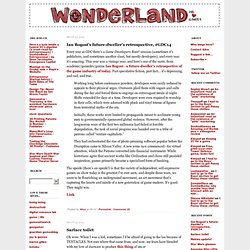 I was lucky enough to get to go to the BAFTA Games Awards t'other night, and to watch two of my favourite games (Last of Us and Tearaway) totally clean up. At some point in the later (v. drinky) proceedings, someone rather brilliantly said to me, "Are you still doing that doll thing?". So yeah, we're still doing that doll thing ;-). Here's a mini update! The game's out soon, which is the other, pretty critical half of the "virtual goods producing physical goods" idea that fuels MakieLab.
Dungeons & Dragons Online®: Eberron Unlimited™