Lessons
The Elements of Art (line,shape...)
Still Life is the best subject in art for both learning and teaching the skills of drawing and painting. Still Life teaches you how to look at an object and see it like an artist - with a conscious awareness of its outline, shape, proportions, tone, color, texture and form. Our step by step still life lessons will teach you the drawing techniques used to create the still lifes above. You can see an animated version of each technique in our Still Life Slideshows at the end of each lesson.
Art Lessons from Artyfactory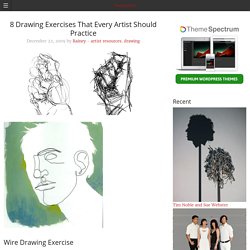 Sponsors make this site possible. Wire Drawing Exercise Example from save-janos.net – this example has been placed on a painted acrylic background With this exercise you are not going to be drawing at all.
Learn the basics of perspective drawing in this beginners art tutorial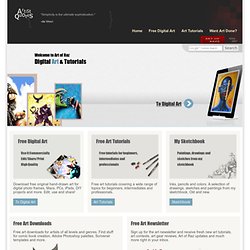 Welcome to Art of Raz Digital Art & Tutorials My Sketchbook Paintings, drawings and sketches from my sketchbook Inks, pencils and colors. A selection of drawings, sketches and paintings from my sketchbook. Old and new.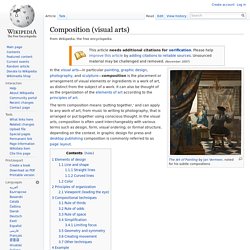 Composition (visual arts) - Wikipedia, the free encyclopedia
In the visual arts – in particular painting , graphic design , photography and sculpture – composition is the placement or arrangement of visual elements or ingredients in a work of art, as distinct from the subject of a work. It can also be thought of as the organization of the elements of art according to the principles of art . The term composition means 'putting together,' and can apply to any work of art, from music to writing to photography, that is arranged or put together using conscious thought. In the visual arts, composition is often used interchangeably with various terms such as design, form, visual ordering, or formal structure, depending on the context. In graphic design and desktop publishing , composition is commonly referred to as page layout .