Weight_Watchers
Calorie Counter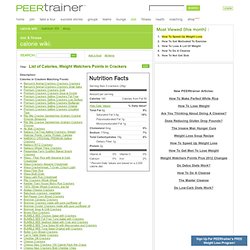 List of Calories, Weight Watchers Points
New Services and Offerings From PEERtrainer: 1) Tip Of The Day Weight Loss Coaching Program -- This is a daily email program that helps to reinforce fundamentals as well as gives you practical tips each day.
Log In
WeightWatcher.com: Marketplace Splenda Brand Platform
eTools
Weight Watchers Points
Calories and Nutrition Facts--Drinks
Millions of people have lost weight using MyFitnessPal, the world's largest nutritional database & easiest calorie counter — get it now, completely FREE! Doctor recommended studies show that diet journals are essential for weight loss. Largest food database - over 2,000,000 entries Track all major nutrients - calories, fat, protein, carbs, sugar, fiber, cholesterol and more Sync with our free iPhone, Android and Blackberry apps - now with a barcode scanner! Completely free - with NO strings attached To see Crystal Light Pure Fitness Lemon Lime calorie and nutritional information...plus 2,000,000 other foods, sign up for a FREE MyFitnesspal account today! I would shop for the most forgiving clothes possible and sometimes skip events because I didn't feel comfortable in anything..."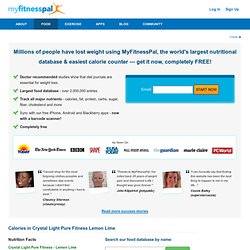 Beverages--One Point Food List for Weight Watchers
Points: Candy
My Favorite Weight Watchers Websites
Weight Watchers Points Calculator