Weight_Watchers
Calorie Counter. Don't see what are looking for?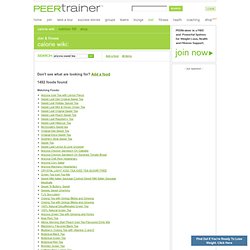 Add a food 1492 foods found - our sponsor - List of Calories, Weight Watchers Points. New Services and Offerings From PEERtrainer: 1) Tip Of The Day Weight Loss Coaching Program-- This is a daily email program that helps to reinforce fundamentals as well as gives you practical tips each day.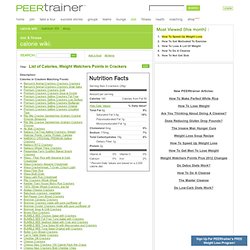 We are getting GREAT feedback from subscribers. 2) Weight Loss Bootcamp-- This is a free 4 week program where you are taken through some of the fundamentals of how to make changes. The calls and the Tip Of The Day work together and present and reinforce a common information set. 3) Tip Of The Day Blog-- We update this each day with responses to specific questions from our coaching subscribers and customer. 4) New Diet and Weight Loss Content-- We have launched a new diet section that organizes the growing amount of content on the site. When you click in the most important areas are highlighted. 5) PEERtrainer Coaching/Training Intensive This is a new 12 week program that helps you solve the mental blockages that are prevent many from sustainable weight loss. Log In. WeightWatcher.com: Marketplace Splenda Brand Platform. eTools. Weight Watchers Points. Calories and Nutrition Facts--Drinks. Largest food database - over 2,000,000 entries Track all major nutrients - calories, fat, protein, carbs, sugar, fiber, cholesterol and more Easiest and fastest food entry Sync with our free iPhone, Android and Blackberry apps - now with a barcode scanner!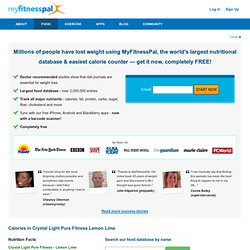 Optionally connect with friends, or participate in the MyFitnessPal community for motivation and support Completely free For over 2,000,000 foods! We take privacy very seriously and will never spam you Millions of people have lost weight using MyFitnessPal, the world's largest nutritional database & easiest calorie counter — get it now, completely FREE! Doctor recommended studies show that diet journals are essential for weight loss. Beverages--One Point Food List for Weight Watchers. Points: Candy. My Favorite Weight Watchers Websites. Weight Watchers Points Calculator.
---