Comunidades y participación
RECETAS URBANAS. Lara Almarcegui on artnet. N55. Ciudades Kyosei - Internet y Participación Ciudadana (e-Particip. Hort Digital. Publications: Imagine There is No Copyright and No Cultural Cong. The essay examines all the drawbacks to copyright that, according to the author, make it illogical to put any further faith in the current status.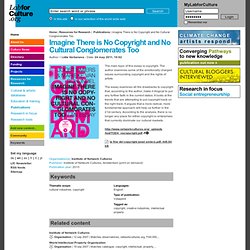 It looks at the trends that are attempting to put copyright back on the right track. It argues that a more radical, more fundamental approach will help us further in the 21st century. Data.gov.
---