Moda
If you pay attention to fashion, I'm sure you've noticed the onslaught of simple ankle strap sandals trending lately. It was bound to happen after these last 5 years or so of wild statement shoes. But also, Spring is here and toes everywhere are gravitating toward these easy-to-wear sandals in heels and flats. A few months ago I found these ridiculously inexpensive ankle strap sandals by Michael Antonio and bought each color they came in. Yes they may have more of a slutty vibe than I'd like but seriously, they are $20, and I couldn't resist. Even if only to create a fun DIY from, they are completely worth it.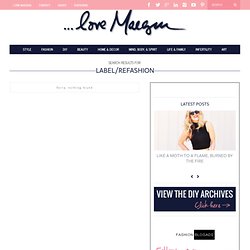 ...love Maegan : refashion Fashion + DIY + Home + Lifestyle
Un paseo por mi armario: 1º Customización: Chaqueta marinera
Buenas!! Hoy os quería mostrar una "customización" que le he hecho a una chaqueta de Bershka, que no me ponía hacía muchísimo tiempo. No ha sido fácil pero tampoco difícil. Después de ver en revistas y páginas webs, decidi darle un toque marinero a la chaqueta. Así que con una visita a la mercería para hacerme con unos botones y cinta al bies, me puse manos a la obra.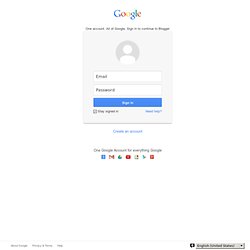 Galerie: Fashion DIY Tutorials (Step by Step in Bildern) Mode, Fashion, Tipps, Fashion-Inspirationen, Styling-Tipps, Schuhe, Styling, Blog, Mode-Beratung, Fashion-Tipps, Dana´s Fashion Blog
pearltrees • iriacastellanos • Manualidades • Crimenes de la Moda: DIY
Sería imposible contar en un sólo post, o en varios, todo lo que implica la experiencia de asistir a MBFWM: los desfiles, el backstage, conocer a diseñadores y modelos, compartir impresiones con otros bloggers de moda… Considerad este post como un pequeño pedacito de MBFWM con algunas de mis imágenes favoritas de este evento tan importante en la moda española. Para mí, esta edición ha sido muy especial porque ha sido la primera vez que he podido participar como blogger acreditada. Debido al viaje a Sevilla y otros compromisos, solamente pude asistir el segundo y tercer día de la pasarela.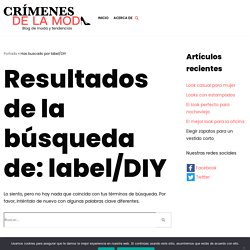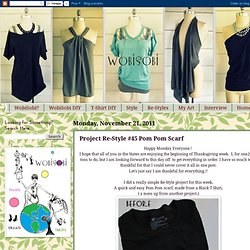 Project Re-Style #45 Pom Pom Scarf
Happy Monday Everyone.! I hope that all of you in the States are enjoying the beginning of Thanksgiving week. I, for one,have tons to do, but I am looking forward to this day off to get everything in order. I have so much to be thankful for that I could never cover it all in one post. Let's just say I am thankful for everything.!! I did a really simple Re-Style project for this week,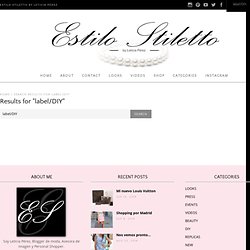 En el DIY de hoy vamos a hacer un collar babero que tan de moda están, el mio va a ser de perlas. Espero que os guste y que os resulte útil y si os animais a haceros uno enviarme un email con el resultado porfiii ;) Para éste DIY necesitareis: 1º En el folio dibujamos nuestro collar babero en la forma que queramos. 2º Recortamos el dibujo y así tenemos nuestra plantilla.
DIY